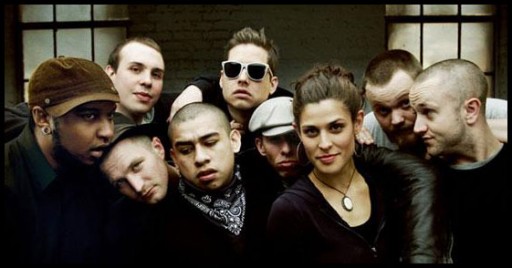 Interior, night. The author is smiling, ever so slightly vibrating with excitement, and counting.
Three sleeps till Doomtree.
A couple of months ago, my headphones were on an all Atmosphere diet. Bless those guys, poetic lyrics with hot beats and enough albums that you can safely commute without repeats (though I'm like a lovestruck schoolgirl with that damn repeat button). Still, I was beginning to feel like I was in a rut, or becoming a stalker (oh, Sean Daley *sigh), so I hit tastekid.com, which I highly recommend for finding things you may like based on stuff you already do. It works for tunes, reads, and movies, so you're well set.
So there I was, checking some of these great suggestions, like Cecil Otter, P.O.S., and Dessa, a philosophy grad poet who's quoted somehere as saying she'd rather be your 10th favorite rapper than your favorite girl rapper, and while she's easily in my top 10 as a rapper, she sings beautifully too.
My YouTube was racing my bandwith limits when the little elves at tastekid gave me the name Doomtree, which turns out to be hugely talented hip hop collective out of  Minneapolis MN, consisting of Dessa, Cecil (we're totes on a first name basis in my head), P.O.S., along with Mike Mictlan, Lazerbeak, Sims and Papertiger. Together they combine their cereal box superhero rings to create epicness. They've been at it for 10 years now, but when the party's this good, being late doesn't matter. As Atmosphere's out of Minneapolis too, I'm starting to think I only like Midwest rappers…
So, there I was singing along, bopping at bus stops, lip synching in metros and I found out the whole kit-and-caboodle of  'em are coming to town this Saturday night.
That's seven awesome rappers, one awesome band, $14.30. Even if they're new to you, at that price there's no good reason not to check it out, and I'm betting it'll be great. For my part, I'm hoping they all bring mad merch; I love artist merch, and with ticket prices like that, I hope to get loads.
Bust out your creative crayons and Colour me Hip Hop Hooray.
Tweet me stuff worth listening to at @McMoxy…maybe something from the Midwest…