In the same vein as my previous article on The Pinyin Pals, I've encountered two other fun-time Montreal-based bands through my hootenany circuit. The Argyles are a group of McGill graduates who made it their mission to rock. In its current formation, The Argyles are vocalist and guitarist Greg McLeod, saxophone player and band sweetheart Ryan MacKellar, and dynamic cousin duo Matt (drums, vocals) and Geoff Dowling (bass). Their first album, Rage and Chill, was my summer 2011 anthem and it played constantly as I travelled through the Laurentians. The second band, Alexeimartov, is a rock trio fronted by the eccentric Martin Bradstreet and backed by the Dorfman brothers, Matthew (bass) and Jonah (drums). Both the Argyles and Alexei Martov are preparing for a cross-Canada summer tour. Greg McLeod of The Argyles and Martin Bradstreet of Alexeimartov took the time to chat with me about their new releases, their obsessions, influences, and upcoming tour.
The Argyles recently released their second album entitled Mean Times. "The main themes on this album include fidelity," said Greg who wrote all but three of the songs on the album and Matt Dowling wrote the other three. " The way we both write songs is very much about personal relationships, gaining and losing, as well as group dynamics, we are very much interested in how people interact: how it goes right and how it goes wrong", said Greg. "Mostly, on this album it's about how it goes wrong, I suppose. That's why we call it Mean Times." The album title has multiple meanings, referring to the recent departure of graduated friends: "it went from a time of extremes which is Rage and Chill [their first album] to sort of average times, which is the mathematical mean." The feel of the second album is quite different from their first, a move towards a more electric rock sound. Low Point, Beta Male, Get to You are amongst the more fun and interesting
tracks on the album, which Greg recorded in his apartment and mixed quite skillfully.
Why call yourselves The Argyles? "When we were first starting to play we played under different names for every performance," said Greg, "David and the Letterman for one show, then the Warhammers, all sorts of names. Fox McLoud and the Arwings. One show we were all wearing argyles sweaters and we went by The Argyles and it kind of stuck." In terms of their influences, Th Argyles name The National, Hold Steady and Arcade Fire. As for Greg, he is personally influenced by The Dudes and is currently on an X-Files watching binge: "I don't really care about aliens or monsters but more so the relationship between Mulder and Scully and how it is hinted at but nothing is really revealed." Greg also enjoys NHL players twitters and the ambiguously official @Strombone1 who may or may not be Roberto Luongo. When asked his favourite place for a beer in Montreal, Greg responded: "A depanneur."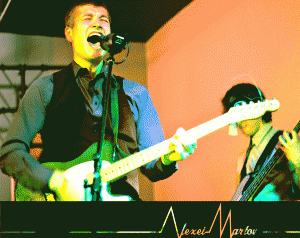 Alexei Martov started when Martin Bradstreet was playing on his own and met former Argyles member Matthew Kassel who introduced Martin to the Gerts open mics nights, which the Argyles were hosting at the time. Martin started hanging out with this crowd who played in low key performance spaces. Eventually, Jonah Dorfman started playing with him and Matthew joined in and that's history. Their name, AlexeiMartov, comes from Martin's youthful piano compositions which he would write under the pseudonym Alexei Martov as a creative tribute to the russian composers he was playing at the time and as a way to keep piano a private area of his life. Nowadays, Martin's influences are performers with a lot of conviction. He names emotional performers like Jeff Buckley, Jack White, Robert Plant, Pavorotti.
Alexei Martov also recently released some music with their debut EP Scent of a Wolf which they recorded with Steve Albino at Electrical Audio in Chicago and mixed with Howard Bilerman at Hotel2Tango. One of my favourite tracks from the EP is The Road which was inspired by the book of the same title by Cormac McCarthy: "I'd been wanting to make a song about that for a while. I liked the idea that even in this dark world if you have this light in the future you can stay focused on that and it doesn't matter what happens and everything is just another step towards that. The idea that this guy and his kid could have taken the easy way out but decide to 'keep the fire inside'," explained Martin, "It's very similar to trying to be a musician and trying to find a band. It's something that typically takes a long time and if you are doing it because you are very passionate about it, it doesn't matter what happens along that pathway, there are no real obstacles just things along the journey. The more positive songs I write are usually because I am trying to fire myself up when I'm not feeling positive. The Road is kind of song like that."
Speaking of scents (of wolves), Martin is currently obsessed with smells: "I like senses, I have this sensory immersion thing going. I figure that if you are as immersed as possible in the senses of things you kind of understand experiences better and visualize them better." He said,  "I read some books about people who were really into perfume and it seemed like they had an inner nose, rather than an inner ear. That led me down a pathway of getting into the construction of perfume and the smell of wine."
If Martin's name and the band name seem familiar, it may be because you are someone who follows online poker. Martin started his career being sponsored to play Starcraft and his next obsession was Warcraft 3 for which he won flights around Australia: " After that, I noticed that people playing that game at the top level were playing poker, which I thought looked way way more boring. But pretty much all the top Starcraft and Warcraft players were also amongst the top poker players, so there was obviously some sort of correlations between the skill sets. So I kind of figured I should give it a go and it's helped me fuel my musical endeavours ever since."
Make sure to keep an eye and ear out for these guys as they make their way across Canada!