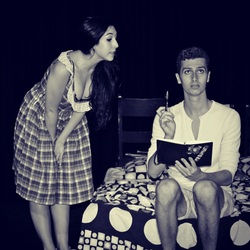 Montreal's new Double Spaced-theatre is putting on it's first production this Wednesday. The comedy/drama Bea by Mick Gordon offers a glimpse into the life of 25 year old Bea who has been paralyzed by a terminal illness for 8 years. The story isn't paralyzed by her unnamed disease though, because it is told through the voice of Bea's inner self.
Through Bea's playful and cathartic interactions with her mother and quirky new care-giver Ray,  the play explores themes of love and sacrifice when Bea expresses her wish for assisted suicide. Director Michèle Robinson was mindful of the recent B.C. Supreme Court Ruling ruling to grant Gloria Taylor the right to a physician assisted suicide when directing the play but Robinson insists that her role is not that of an advocate for the cause.
"Bea is definitely a hilarious show about a deeply troubling issue, so I want the audience to simply witness what is going on in Bea's world. The play is not about pushing a stance on assisted suicide; it is about the impossibility of forming any opinion without being directly involved…"
Though it includes dark themes and painful issues Bea is lightened by a bangin' disco soundtrack, lovely costumes, and Robinson describes the set as a "sparkly sterile party castle".
Bea features local talent, Director Michèle Robinson is a student at McGill and the three actors featured in the play are graduates of Dawson College's Professional Theatre Program who have been involved in many local productions. Despite some major set-backs along the way Robinson is excited and confident about the four night run for Bea.
"It feels incredibly exciting to be opening tomorrow night. There are less and less things to do! Though it's not my first time directing a play, it is the first time that I feel such a professional energy. There is momentum happening everywhere and everyone feels it!"
She hopes that her new company Double-Spaced Theatre will find it's place as the "it company for aspiring professionals" in the near future.
Bea runs September 12th to 15th at Théâtre Rouge
Check out the trailer