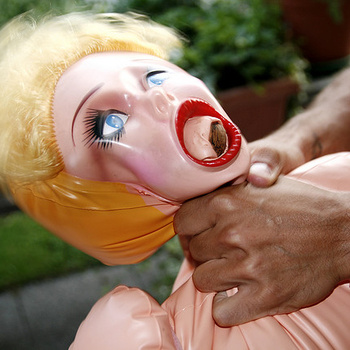 Looking to get in trouble tonight? I think the answer to your party needs is to make your way to Divan Orange to catch Douce Angoisse and Slutdrive. Here's an introduction to these two bands for those unfamiliar with them.
Douce Angoisse is an electro act coming from France. Well, it's a little bit more complicated than that. The project started in France but Adeline, the front woman, was looking for a change of scene and soon packed her luggage to take London by storm. Unhappy after a couple of years, she decided it was time to move again and now lives in Montreal. The band changed a lot since arriving and I must say it's for the best. She's now playing with a very talented guitar player, Olivier Gourde, and a new drummer. With a slogan like "We're all born in the same shit", I can guarantee you that toilet paper rolls will be flying and I wouldn't be surprised to see Adeline jump on the drum and make sure that everybody in the room is shaking their asses off. Check out some of her videos, she's awesome!
http://youtu.be/jRVP72Ck7MA
I met Slutdrive at a loft party I was djing at last May. Everybody was encouraged to wear jeans short and it brought a crazy atmosphere to the event. If Douce Angoisse is the electro queen, let's say that Slutdrive are the dirty punk rockers. Their live show is the best answer to a stressful end of semester. Not convinced yet? Have a listen to their bandcamp : http://slutdrive.bandcamp.com/
The show is taking place at Divan Orange tonight. It starts at 9pm and 8$ is all you need to see these wonderful bands. Remember, soon you'll be stuck in doors with your family dealing with some Christmas drama. Get your dancing fix before it's too late.