It's taken decades for dumpster diving to nudge from the fringes to the mainstream. Hell, ten years ago, it wasn't even the explicit goal of the practice.
When it was mentioned in the media, dumpster diving has always been something of a caricature: a bit part in stories of folk on society's edge: the homeless, the penniless student, or the militant environmentalist.
Well, like local chicken and artisan popcorn, dumpster diving might have been bound to hit hipsterdom–or even possibly policy debates–once it got the prescient Portlandia's treatment.
Pardon the pun: when it comes to vegetable-burdened garbage vehicles, 2014-15 has been the tipping point
From the reach of European Ugly Fruit & Veg campaigns to global glee when French banned supermarket waste.
The prominence of food waste might have reached the pinnacle last week: UN delegates were served a haute cuisine tasting menu of dumpster fare—prepared by elite American chefs, notably Dan Barber himself.
The delegates, including Secretary General Ban Ki-Moon, munched on Landfill Salad, which, to quote the menu, consisted of:
vegetable scraps
rejected apples
…chickpea water
Next up, "BURGER & FRIES," elegantly described in the roped menu: "off-grade vegetables, repurposed bread…cucumber scraps…"
The food was no doubt fascinating and faultlessly executed; witness:
"cocoa husk custard" dessert created with parts of cocoa beans usually discarded when making chocolate
Though food waste has long been a global crisis, its recent win seems due to piggybacking on something much more glamorous: climate change. Now that the two are finally seen as utterly inseparable issues, world leaders and mainstream media have a safe bet trumpeting the cause.
To what end?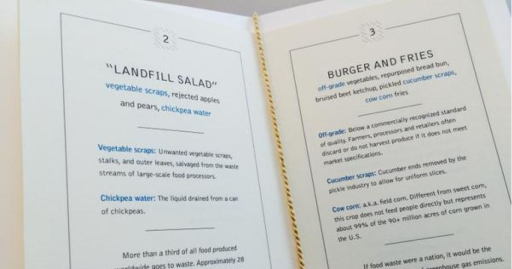 It's hard to know if it's too late, or if such events are anything more than fun food writer fodder. Certainly scholars and academics seemed markedly split. Some saw it as gimmicky or simply elitist, while others welcomed the PR for its far-flung benefits.
However we should be wary that it remains to be seen what really happens from this stunt.
European leaders, for example, who dined on Barber's dumpster bites were likely unphased: they've been part of the swift sweep of the food waste over their political and industrial landscape—from the supermarket waste ban in EU debates to corporate responsibility measures in many of its largest supermarket chains.
Here in Canada, it's much less obvious what effect—if any—such food waste celebrity status will have.
For someone small-minded like me, my mind goes to dumpsterized celebrity chef speculation. Who would be our nominee to stage similar recycled meals for Canadian leaders?
Perhpas Chuck Hughes digging through empty wine bottles in an Old Montréal alley, spinning out some renewed mullusk-shell bisque laced with dregs of private imports from his bacs de recyclage. Or a blazer-clad Mark McEwan scrubbing still-crisp carrots from the bins of his high-end Toronto store, repurposing them in day-old baguettes from his in-house bakery, all with a skeptical scowl.
Of course, none of this would happen here. If anything, we can hope for more events like Metro Vancouver's mass free lunch of "rescued" food. In true low-key Canadian fashion, the 5000 people this event fed got one tenth the press ink of Chef Barber's 20 precious plates.
Downplaying splashiness, however, goes hand in hand with Canada's habit of downplaying food security altogether, to the point that we're embarrassingly lagging behind other industrialized countries. Lest you jump to CPC-blaming, know that it's far from just a diplomatic problem. It's just as seriously a societal and cultural one. Old illusions of boundless natural resources and agricultural surpluses remain firm, not to mention the fact that most Canadians are urban-concentrated, downplaying rural and remote food crises: "out of sight, out of mind."
Food Secure Canada, the leading umbrella group of scholars, advocates and policy coordinators when it comes to food issues, have been trying to hammer the severity of the issues for years.
With elections looming, it's even more striking that the UN & Dan Barber style mega-attention on food waste remains mostly lacking here. Campaigns such as Eat, Think Vote, an initiative meant to bring citizens and their riding candidates together for a meal to discuss Canadian food issues, have helped nudge the issue forward, evidenced by some discussion at this Monday's debate.
The nefarious effects of cosmetic produce took years longer to come to Canada after Europe, and even to this day, has trickled to market in frustratingly tentative fashion. My previous notes on the our slow-moving supermarket industry is helped by, for example Moisson Montréal's widened food recuperation operations in Québec. Yet these are drops in the bucket, largely outside the mainstream mind or political debate.
It remains to be seen how this UN splash will speed up the Canadian progress on food waste