We live in a time where it is easy to lose track of the goodness and color. A vast diversity of humanity exists in a world where crushing greed and extraordinary evil are mainstream.
We live in a time where racism is prevalent and children starve in the streets, we live in a world where dumpsters are filled with flowers and fresh oranges, and we need to remember the art. We need to contemplate beauty as much as we absorb the daily hate crimes and oppression from all angles.
We need to pause the anger so we can hug random strangers in the street. We must pet dogs with fingerless gloves and smile back at little children. We must say hello to our neighbors and engage the community with open arms.
How can you participate in activism? Be active! The first step to making a change is to just go for it! Feed people, tell them you love them, make their day happy on purpose.
Everyone is beautiful and deserves flowers! Flowers have magic powers. People always grabbed them to share with others too, spreading smiles that would have just been rotting in a dump otherwise.
After major Hallmark holidays stores throw out garbage bags and buckets full of beautiful bouquets of flowers. Waste Not Want Not and Food Not Bombs are two Freegan groups that I am involved with that go into the dumpsters and salvage things like produce and flowers from landfills.
This is our second time handing out free flowers. I wrote a similar blog last year and was inspired to do so again because it is important, check out Dumpster Diving for Sustainability.
I haven't gone dumpster diving in a while. Well, I am more of a spectator because I feel like if I climbed in I would not be able to get out. I should get a step stool. A head lamp and work gloves are also important. Bring boxes and garbage bags for the haul.
Look for food that is in sealed packaging or fruits and veggies with a tough outer skin that can be washed. Most smaller grocery stores do not have compactors, so if they leave their dumpsters unlocked you are good to go.
It is incredible what people are going through. A little bit of joy can change the world.
The other day we had a burlesque show and a man who was in the military, suffering from PTSD and suicidal thoughts, came to it and told us that he felt better after seeing our show! The comedy and light we put out into the night saved someone's life. He is going to come back every Tuesday.
It is so important to remember that not everyone is as privileged as you are, not everyone has a place to live or a family that loves them. Some people live in the shadow of atrocity. They are forced to wallow in the splinters and shards of broken glass. Lift them up by sharing in the bounty, help the world be a better place, and always remember to love each other!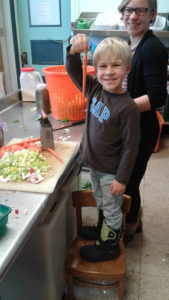 After we shared flowers my friend stopped at a restaurant to pick up leftover rice and beans and at a coffee shop for some bread, then dropped it off at Friends of the Night People, where they serve the homeless daily. He also saved literally 800 pounds of plantain bananas today as well, and we gleamed some persimmons.
I learned a lot about urban foraging the other day. It feels good to connect things that would have been wasted to people that need them to survive. I don't know what I would do without my Food Not Bombs salvaged produced, it feeds me for the whole week.
The Salvage Supper Club hosts dinners in "clean decked out dumpsters". The group of activists have thrown dumpster parties in Brooklyn, Berkely and San Franciso.
I love the idea of a fancy sit down meal made of saved food right in the dumpster to promote better waste consciousness. People need to be engaged and excited about waste prevention. Landfills are terrible for the environment. Many people are rescuing food from restaurants and grocery stores across the world.

With friends, I am currently working on a Food Not Bombs mural in the basement of the Hostel Buffalo Niagara where I work. It is fun to represent the community in this piece, I will post photos when it is complete.
Although it is monumentally important to create political art and art that sheds light on terrible things, sometimes it is refreshing to see something whimsical and fun just for the sake of being lovely. Art that is childish and kind, art that makes people smile.
Currently there is an artist installing work based on his twin four year old sons. They are incredible! 15 feet tall, sort of pixilated Rockum Sockum robots meet Lego versions of "Larger Than Life" children. It reminds us of innocence and feeling like you can accomplish anything.
Kids are born with that sense of giant wonder, they are color blind, they are confident. They must continue to be nurtured by adults who remember what it's like to be a child.
I have seen at least 10 people walk by the window and smile, never forget how to smile. Let the sunshine into your heat and always remember to love each other fully and proudly, out in the open.
Love is free! Spread the seeds so they can grow into flowers and bloom rainbows of positivity.