Originally set to take place at the Atwater Library, Dyad Press' poetry reading, titled "Former Members," ended up down the street at a small park.
Picnic tables were pushed together to form a makeshift seating area as the twenty-odd attendees gathered to hear Jesse Anger, Hannah Hackney, Quincy R. Lehr, John Wall Barger, Marc Di Saverio, Carmine Starnino, and Ernest Hilbert.
"This is perfect somehow," remarked Barger before beginning his reading. Despite the change of plans, the outdoor venue was indeed a perfect setting. Each poet read his or her pieces in the cool evening while backlit by the setting sky.
In an absurd twist of events, the Montreal police decided the poetry reading was an illegal gathering that posed a risk to the Atwater community and demanded the party leave. Before departing, and within earshot of the SPVM officer, Hilbert had time to read "The Gelding." According to Hilbert, the poem speaks to the institutional suppression of creative freedom. How fitting.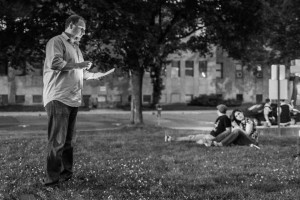 The night ended across the street, on public property, with a compelling reading in near darkness by Di Saverio. For light, Hilbert held up his cell phone on flashlight mode over Di Saverio's shoulder.
For a poetry reading, I imagine this is as exciting as it gets. How many can say they've been one poem away from being tear gassed? 

Photos By: Richard Malouf