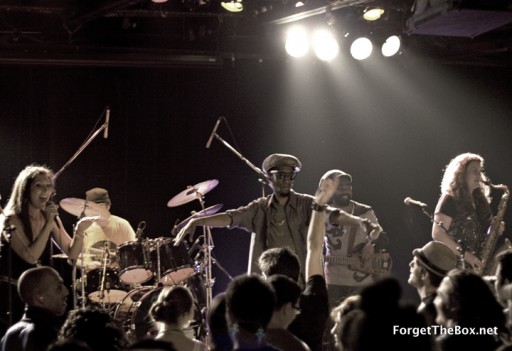 Knowing what you're getting yourself into is half the excitement. Actually getting yourself into it, then finding that it's exactly what you'd thought it would be…well, that's not too bad. It probably could have been more, but at least it wasn't less.
Hailing from New York, Michael Goldwasser, Eric Smith, Lem Oppenheimer & Remy Gerstein came together in 1997 as a studio band to form the  Easy Star All Stars, both an epic collective band and their own record label. With a down-to-earth stage presence, Easy Star All Stars grabbed the crowds and wound up playing a tonne of originals off their First Live album. The audience dug it for sure: underneath the clouds of pot smoke and watery yellow and red lights, you could see heads bobbing.
It was the type of show that's more experiential than your average show, which usually involves getting trashed and trashing around the front stage while some band blasts the sound out of your eardrums. The beginning of their set was a bit more laid-back and relaxed, but the band soon knew how to bring the audience excitement levels up.  With lights flashing, sax solos and bass breakdowns were thrown in to the mix, drawing everyone in with sunny vibes and a chilled out atmosphere.
The audience stayed pretty mellow on the originals, but when the band broke out Radiohead's "Climbing up the Walls"  and the female vocalist let loose, it was unbelievably chilling. "Sergeant Pepper's Lonely Hearts Dub Band", the Easy Star All-Stars take on the Beatles classic, also made way for some cheerful jams.   And then of course came their mean rendition of Pink Floyd's "Money":  Green lights flood the stage, and no one can see anything but the harsh emerald glow. The noise of coughing breaks down into some cool bass riffs…and then suddenly "Money" erupts, and the crowds start dancing hard…followed by a little sax solo…
When they left the stage, the audience wasn't having it at all – so the band came back   to rock the crowds with about five extra songs and even more energy than they'd had before; the band jumped up and down, broke into some wild jams, and then ended the set on a really, really high note.
For more photos by Kaelin Toomey creep us on facebook.