Roaming for art all night is great. But how will you stay energized?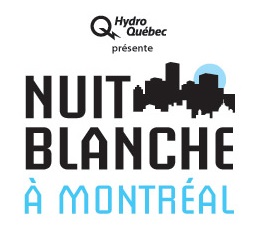 A blizzard of delicious detours are on offer to keep you boozed up and well fed from 7 pm to 7 am. From free beer and ice cream samples to chocolate fountains, tartars and pirate rums, we've paired culinary events with reliable restos to keep you covered all along your Nuit Blanche route.
In no order whatsoever (because Nuit Blanche is all about spontaneity), here are 29 eatable, drinkable temptations to drop into your itinerary:
1) Heading out from the Plateau just before 7 p.m.? Perfect timing. Grab a quick espresso at Flocon first before they close.
2) Try smoked meat or Belgian waffles in the thick of the chaos at Place des Arts. Too boring? What about Haïtian pork, empanadas or maple delights? Same location.
3) Skate the night away: the gloriously-located Éspace La Fontaine is offering mulled wine and an impromptu menu overlooking the skating rink at Parc Lafontaine.
4) While you're nearby, stop at historic La Banquise for a kamikaze poutine (merguez, hot peppers & Tabasco).
5) Just down the street at La Quincaillerie you can play games while you drink notable house cocktails such as Boulon (vodka/chambord/cranberry/pineapple)
6) Oh, Musée des Beaux-Arts, you're getting more down to earth each year! This year our beloved MBAM is offering beer tasting alongside a chocolate fountain.What could be a better combo?
7) Make fanzines & get free hot drinks at Geordie's Espace 4001. 4001 Berri.
8) Grab free sorbet à la pig roast at Les Givrés—all while playing free games!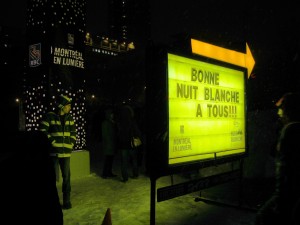 9) Obtain a free coffee from McDonalds at Guy & Ste-Catherine after checking out the nifty FOFA Gallery show at Concordia
10) Gnaw on killer sandwiches from Zoe's Food Truck at Parc Olympique
11) Still at the Parc, try La fameuse poutine (winner of the Drummondville Poutine Fest) at Lucky's food truck, or nibble on other street eats from the six other food trucks stationed
12) What Would Alexandre Despaties Do? Who knows. But you can learn what he likes to eat and keep the Olympic spirit alive with Saveurs Olympiques, a cross-pollination of chefs and athletes at Vertige. Warning: expensive tapas.
13) Slurp up some squid ink spaghetti at the always-solid Venti before dub-stepping the night away at PHI Centre
14) Try free beers and commemorate an old Montréal business (the now-defunct Dow Brewery) at ETS
15) Arrrrrr! Six pirate rums are on offer at Cabaret du Roy. Try all of 'em for the reasonable price of $30 (pace yourself)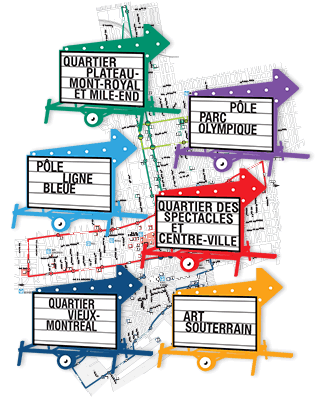 16) Grab free food samples from Rue St-Denis merchants until 12 a.m. between Marie-Anne and Mt-Royal (oh, free ice sculptures too: no licking the transparent animals).
17) Steal some value: curry & BYO-wine. Take a 9 p.m. Plateau break at La Belle Thailandaise.
18) Fill your stomach with all night poutine at La Fameux (24 hours, one of my favourites). My tip:  pair it with their copious Greek salad (best kept secret in town). 4500 St-Denis.
19) Pause for a trio of tartares at Hachoir
20) Go for a brain freeze with a quick ice cream at Crémerie Meu Meu. 4458 St-Denis.
21) What? You're STILL on St-Denis near Mont-Royal? Re-energize your subconscious mind at Bily Kun with real absinthe. Pair it with a plate of cornichons and olives. Backup choice: Kun's amazing Slivovice plum brandy
22) Eat oysters with tangerine jelly and dulse (joyous) at illustrious Au Cinquème Péché. Pair it with wine using this handy illustration.
23) Amuse your bouche at Le Sensorium's performance work on phosphorous.
24) Kick back with friends over a friendly pitcher at Auprès de ma blonde. 3845 St-Denis.
25) Drink microbrews while answering tough questions at Quiz night at Randolph Pub Ludique.
26) Taste the south-west! A personal fave: the Centre Culturel Georges Vanier is featuring Itsi Bitsi cupcakes, Burgungy Lion & Drinkerie booze and more alongside music, games and light installations.
27) Drink and learn from serious gamers at La Recreation as part of the Montréal Joue festival
28) Indulge your sweet-tooth with cupcakes & macaroons in the plastic Provigo dome at Place des arts.
29) Consume hot drinks, sweets and yoga for a voluntary contribution at Vert Prana yoga studio
Found your own tasty stop? Let us know: @forgetthebox