A few months ago I was laid off from my job as a printer. I have since been collecting employment insurance, a system which I paid into and am now living from, and I'm supposed to receive benefits until about June. Like one is supposed to do when one is out of work, I've been looking for a job.
I recently found a job involving telephone sales, but didn't take it, as it was not a good match for me. The government then started threatening to cut me off because, like a complete idiot, I followed what I was told and reported a day and a half of work to EI. So they're threatening to cut me off now. Lesson learned, NEVER LOOK FOR WORK WHILE ON EMPLOYMENT INSURANCE! If you do find work, don't be honest. If they catch you in a lie, commit suicide, as you will likely be ordered to anyway! At least that's the message I'm getting from the Gestapo when I read between the lines.
They guaranteed a delay in processing and now will likely cut me off early, forcing me back into a perilous free-fall; a downward spiral that will without a doubt lead to depression, and potentially, force me to commit a crime.
When I called Service Canada, after a while on hold, I was answered by a dime-a-dozen phone rep, named Jorje. Jorje read his script off a monitor, much like a telemarketer, in an annoying fashion. As I was beginning to try to explain my situation, he hung up on me. He just didn't want to hear it. He'd filled in his little check-box and wasn't interested in my situation.
What the hell am I supposed to do now? It's the beginning of a month, rent is due, and there's a likelihood that I won't be able to pay my rent and could end up homeless in the wintertime, courtesy of the government of Canada and an annoying little immigrant with an immature voice named Jorje.
All this because I tried my hand at telemarketing again, and was quickly reminded that telemarketing is really not for me. This was a job that paid less than EI was paying, and I wasn't very good at it. I thought that once you were on EI, it didn't matter if you worked for a day or two, to test out a potential new job, but didn't take it, as long as you reported it. I think I was wrong.
Now there's a very severe chance that I could be losing even my other benefits. Needless to say, I'm scared. They say they have to "investigate" the matter. If it was a dismissal, I lose. If the employer says I quit, I lose.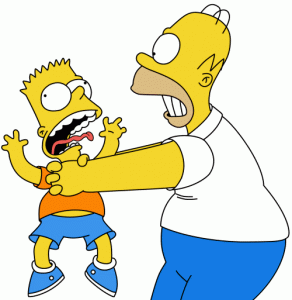 I want to strangle these government bureaucrats until they're dead, and still keep strangling! Kinda in the same way the Government of Canada seems to be strangling me!
As I write this,   I'm also struggling with a very high debt load that keeps climbing. I don't like to think of such unpleasantness, but what choice do I have? I get no benefit from my income tax either, which goes to pay the interest on my student loan. Is this what debt bondage feels like?
Debt image from bustathief.com