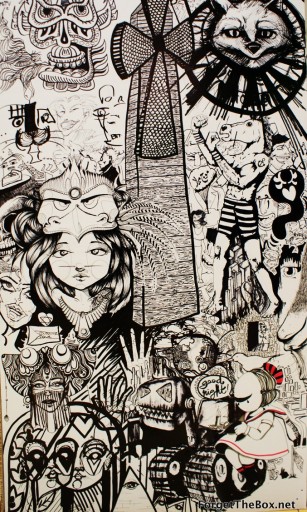 "Really the birth of the project was getting a bunch of artist together to see what experimental art they could come up with, we got these massive canvases by covering the walls with paper, and gave out markers to see what would happen." I'm speaking with Jason Botkin, one of the founders of En Masse, while standing beside several artists drawing on ladders beside paper wrapped columns in the Eaton Center food court on Nuit Blanche.
It was the second year I'd seen them at the all night festival. The first time was in the Old Port, when they covered the walls of an entire room with the most rich, satirically devastating drawings I had ever seen.
There was so much action going on in the black and white piece of collective consciousness that there seemed to be a hidden narrative being told between the drawings.
En Masse is described as "a boundary-blurring cocktail of high and lowbrow culture, pop imagery fragmented like shattered glass in a spontaneous, multi-genre, black-on-white collision." The black and white drawings are a continually evolving piece that erupts with creativity. Which makes watching the artists work, an eye-peeling, mind-bending, hypnotic experience.
"When we started, we didn't care about the artwork so much, but we were interested in seeing what would happen if we got all these cool artist together."
Realizing that they had something remarkable, they decided to act on it, spreading the word of the black and white revolution across the city. Recently En Masse has had their work on display at the Musée des Beaux-arts. An incredible acceptance for a piece that would be considered on the margins for the fine art community. The group has found a way to break the boundaries of the high/low art divide, and found some acceptance in high art culture.
They have also put on production of their art work at Osheaga, Piknic Électronik, Under Pressure, Manifesto (Toronto). They even worked with the Cirque du Soleil to create a work for one of their productions.
The finished product is pretty neat to see. "We didn't have expectations that it would turn out so well but this works."
For Jason Botkin, Rupert Bottenberg, and Fred Carr, their first project was a life changing experience that lead them to eventually organizing further events.
Although the group has often mistakenly been labeled a "collective" which does not justifiably define them, they are indeed a "drawing initiative" that brings together many different art forms from the realm of fine art, underground comics, graffiti and graphic design.
"Many people had different ways of creating elements and there were many competing egos."
The final product however, comes together as a unique piece where the whole is greater than any individual aspect. The amount of artists contributing varies from show to show. "Last year, District Montreal did the numbers and we had something like 2000 drawers."
Since it's inception they have also worked with schools to have En Masse activities with students. "That started after our first project. We approached the English Montreal School Board. A year into the project En Masse began For the Masses, it took about a year to resurrect the project and we did it with John Abbott collegiate."
"We had friends who were doing an out-reach program and worked with Artpop and the Redbird gallery (up on Van Horne), we did a huge project, about 350 sq. ft. It was incredible. One of my favorite pieces."
That's a lot of markers!
After a big year expect to see more from En Masse in the future. More markers and more art talent to doodle on massive pieces of blank paper.
En Masse is one organization fighting the over the saturated commercial mind-space with public displays of real art, on the street and in our schools, and for that they should be commended.
Photos: Iana Kazakova & Chris Zacchia