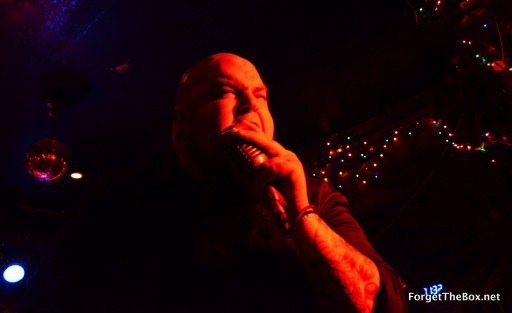 Toronto is rocking with music and I'm having a great time! The rain hasn't let up, but anything's better than the ice blizzard back home. At least I get plenty of great bands to look forward to. Here are a few bands that I got to see last night. Hopefully I will make it. With all this great stuff going on, getting pen to the page and writing is harder then is sounds. Let me tell you about some of the great shows I got to see last night…
Endast @ The Bovine Sex Club
Celebrating Bovine Sex Club's 20th Anniversary, a legion of metal bands and their hardcore fans came out. Especially great to see were metal bands from across Canada. Endast at the Old Bovine Sex Club was a show that really got me into the mood of the festival celebrating the best from many different genres of music. Metal is my secret crush.
Bovine Sex Club is a venue comparable to Foufounes Electriques in Montreal, except a lot smaller. It does however feature the same derelict style you'd come to expect in a place that is a local watering hole for many musicians and music patrons.
The show exhibited the raw awesome power that we've come to know and love from Canadian metal. Endast did not disappoint. They played many songs from their latest album Black Cloud and played one of my favorite songs Pray for Rain. After Endast, a few other great metal bands came on to close up the show including Assassinate the Following from southwestern Ontario who had some great licks. The singer Brandon was awesome and showed an incredible level of intensity.
Photos & Video by Chris Zacchia
Check out more photos of Endast here.
Barr Brothers @ The Dakota Tavern
What a great band. Sometimes you find a special band in a place where you didn't think anything special would happen. But I have to say, after last night's performance by the Barr Brothers at The Dakota Tavern, they were great but I was done. We arrived late to the festival and after running around like a crazy person all night, these guys were the perfect serenade to end the night.
Brad Barr (lead singer) joined with Sarah Page (harpist) to make some beautiful melodies and perfect vocal harmonies. The band is also made up of members that use to play with Lhasa. With elements of country and folk, this is one band that if you have a chance to, you should check out. When they played The Devil's Harp my heart sank, one great, great whiskey drinking song.
Photos by Chris Zacchia for more: Barr Brothers