July is here with all its humidity. It was disgusting outside yesterday, but that was the only thing I could complain about, really. In fact, the whole of Montreal should be squealing with glee right now because the world's funniest festival is back in town!
Of course, I'm referring to the one and only Just For Laughs. In fact, JFL may be one of the only reasons why I've decided to stay in this city after school. (I may be slightly exaggerating because of all the free shows I get to see and review; but hey, bloody constructions everywhere, sheesh…)
JFL is celebrating its 34th birthday this year and as always, the schedule is jam-packed with hilarious comedians from all over the place. I'm excited to see such great comedians like Jimmy Carr, Cameron Esposito, Michelle Wolf, Aparna Nancherla… The list goes on.
But I'm particularly stoked about the Midnight Surprise, because no one knows who is gonna show up. Big-timers often go to these events before their big show to test out their material – and I wouldn't mind accidentally bumping into David Cross, you know?
But today's focus is The Ethnic Show; a spectacle that has a very interesting concept. The comedians who do their sets at this show are all "ethnic" – notwithstanding the fact that the word does not really mean what we expect it to mean.
The line-up is basically the set up for a joke: A Greek guy, an Italian guy, a Moroccan dude, a Jewish woman, a Lebanese guy, a Puerto Rican woman, and a Nigerian guy walk into a bar… I mean, the result is hilarious. And the comics seem to think so as well.
Before the show I talked with Jessica Kirson, who told me that she was looking forward to performing. Thursday's show wasn't the first show of the festival, so Jessica was already pumped to be doing the show.
"It feels good to be on the show," Jessica said. "I'm the Jew on the show, so I'm very proud of my heritage and everything. I love talking about it, it's great!" Indeed, Jessica's set had a lot of stories about old Jewish women, who apparently all have the same facial expressions and all sound like Fran Drescher. But you probably already knew about that stereotype, right?
My favourite part about her set, though, was her talking to herself. Apparently it's a gimmick that she does. At random points during the show, she turns her back to the audience and "comforts" herself by saying weird things about oatmeal. It's bizarre and great.
Oh by the way, before I forget, she wanted me to write that "Yannis Pappas is an asshole." Yannis, the "token Greek" of the show echoed her sentiment (in case it's not obvious, this was a joke).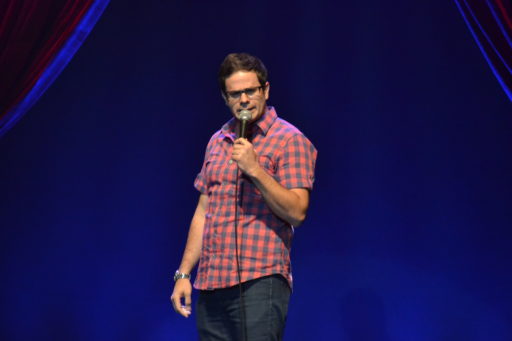 Speaking of Yannis, he started off his set by saying that he has been to Laval and is pretty sure that it's a Greek island. Everyone else laughed at that; but, to be honest, I've never been to Laval (because I never really needed to) so I didn't get the joke. I laughed anyway, because everyone else was also laughing, and I really did not want to stand out.
To my chagrin, Yannis did not have any jokes about Turkish people. I suppose the entire Greeks vs. Turks trope doesn't really exist in North America, so that's understandable. Regardless, I managed to get him to admit that "Yoghurt was probably not a Greek invention."
However, he also told me before the show, "I'll give you guys yoghurt, if you guys give us baklava." I'll let him get away with that because he was a good sport and a funny guy on stage.
You know who's really cool though? Rachid Badouri. That guy had its first major anglophone show at JFL last year. He was also one of the comedians on the Ethnic Show last year.
This year, they got him to host the Ethnic Show and he was psyched. "They finally trusted me," he told the audience – amazed. He repeated the same material from last year; but he's still funny. It's all in the delivery, I guess.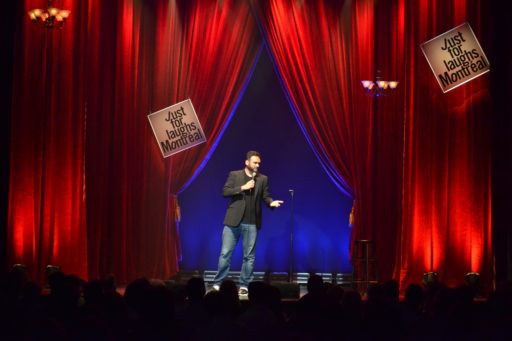 In addition to Rachid, Yannis, and Jessica, the Ethnic Show also features Godfrey, Gina Brillon, Nemr, and Dom Irrera. Now, all of these people are absolutely amazing. Godfrey killed it with a joke about how he wished humans would have mating calls and acting out a very riveting mating ritual that takes place at a dance club. Nemr explained to us that, in Lebanon (and in Turkey, I might add), people light a matchstick to check for gas leakages.
Gina talked about her up-bringing in Bronx and how the guys there would try to hook up with anything, including a literal broom with boob. Dom was great as well, portraying the stereotypical Italian guy perfectly. I also didn't know this, but apparently, he was Ernie Potts in the Hey Arnold! TV series.
Bottom line is, go see the Ethnic Show. It's fun, it's different. Most of the time comedians put some background jokes into their sets, but the Ethnic Show allows them to craft an entire set out of their identities. I could talk about it for hours upon hours, but the best way to understand it is to see it.
You can see the Ethnic Show between July 13-28 at Club Soda and Metropolis. For more information, check out hahaha.com. In addition, Yannis Pappas, Jessica Kirson, and Gina Brillon have their own shows as well. So be sure to check them out.
Gina Brillon appears on the featured image, taken by Cem Ertekin.