I will start this by saying I know I am lucky, loved, healthy, and have the world by a string. I wake up most days with a huge smile on my face, knowing that I can accomplish anything. I am young and my face is symmetrical. When I look at my life I see a whole lot of goodness and bliss. My family, friends, and cats are incredible and I even love all of my jobs. My glass is half full.
Then there are those rare days where the sun just refuses to shine. You feel suddenly old and ugly, flawed and hopeless – completely unlovable. The demons you try so hard to help others fight off creep into your own thoughts. Those stupid fucking bad days seem to be longer than every good one combined. Today I am having one of those god awful days. The glass is still half full, just now it's full of shit.
I think it is partially due to the seasonal affective disorder: I crave sunshine. I need my long dresses, bare legs and feet, no underwear or bra, just long flowery flowing freedom. I've been aching, slightly
sick for months. My skin is dry and awful. I just don't feel sexy when it's gloomy. There is a happiness solar panel on my head that needs to be charged ASAP.
I also think the forthcoming spring is a little intimidating. It makes me think of love in the air and people having picnics with their lovers in the park. I am single by choice, but I still miss the simple joy of waking up next to someone. Having kisses and a cup of coffee waiting for you when you wake up is lovely. If I truly wanted a lover, I know there are at least a few people waiting to be mine. Sadly it's not that easy. We never love the ones who openly profess their undying love for us. It's the ones who are hard to get, the ones who show distance, the ones who challenge us: those are the ones we really want.
I try not to dwell on the things that make me sad. I know that I do hold things inside and communicating my feelings is not my strong suite. I do a lot for others. I aim to be the person that you know will always have your back no matter what and be the voice of the voiceless and fight the good fight. I think everyone is good at the core. I root for the misguided; I forgive people without question; and give everyone the benefit of the doubt. In my quest to give others happiness, I often forget to leave some of that passion and happiness behind for myself.
I was really taken aback when comedian Robin Williams took his own life. He was someone who exuded confidence and caused so much laughter. Being funny doesn't mean you are happy. It is unfortunately common for comedians to suffer from depression. It makes sense to me, people who are funny do it as a defense. I think about all of the celebrities who died before their time due to drug addiction or self affliction and it's horribly sad. What's the point of making it, if it's so lonely at the top? Minds that create astounding beauty are also capable of making tragic darkness. You can accomplish all of your dreams and still feel emptiness, what's left to strive for if you have everything?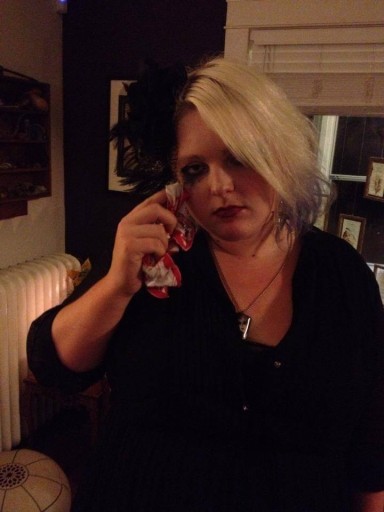 I am a performer. We make the world laugh instead of being the butt of jokes ourselves. I know that I have always laughed to hold back tears. You get really good at hiding the sadness and the rest of the world only sees the bright light you choose to exude. Mental illness runs in my family – I often wonder if I have multiple personalities that just get a chance to exist on stage, then they can't haunt me in my everyday life.
When I am on stage the sad thoughts melt away, nothing hurts, I own the crowd's attention, and I feel true success for the 3 minutes I am up there. I pour my dark thoughts into my art and it makes me more approachable and relatable. All the time girls tell me I inspire them, I am up there flaunting my imperfections. People think I really have my shit together, that is the furthest from the truth.
I'm doing my best to keep it together and keep on waking up with that smile forward. I will never stop trying to help others deal with this harsh cold world. It's important to remember that even the happy people get sad sometimes. Nobody is immune to sadness, we just have to keep doing the best we can do to not let it consume our psyche. Never ever take people for granted. Love them fully, hug them often, use your gifts to empower others and remember to leave a little bit of love left for yourself.