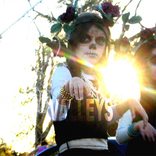 VALLEYS
Valleys are a trip. The sweet female vocals mixed with a background of hypnotizing guitar rifts and intense drumming, let your imagination wander around like that kid from Where The Wild Things Are. Their interesting sound is innovative and feels like a dip those crazy fools take at the beginning of every New Year in the freezing cold ocean. It's strange, beautiful and enchanting. Their new EP Stoner was release November 9, 2010 and can be downloaded via iTunes.
Go into the wild VALLEY this Friday, November 19, 2010 @ 9pm @ Cabaret Juste pour rie via M for Montreal.
Random Recipe

I have a soft spot for female hip-hop artists. I enjoy lady's who can rhyme, and that's just what Random Recipe is about fucking awesome beats, mixed with killer-strong lady vocals, lyrics in different languages and a bit of jazz influenced thumping. The Montreal based folk/hip-hop group are that extra spice you include in your best potluck dish, and the spice that everyone wants to know about. Not only does this group get into your bones because they're music is so damn cool, they also appeal to a large group of people. Their first full length album, Fold it! Mold it! was release on September 23, 2010 and you can download it via their MySpace.
Random Recipe will get your bones jumping on Friday, November 19, 2010 @ 8:30pm @ Cabaret Juste pour rire via M for Montreal.
Pascale Picard Band
Alright, I'm in love with this band. The lead singer reminds me a bit of Ani Difranco (listen to their song Annoying) mixed with Jenn Grant odd combination, I know. Pascale Picard Band plays simple, catchy tunes that sink into your soul (or mine anyway). Based out of Quebec City, these artists combine folksy guitar strums, undercover bass playing and quaint drumming to push the poetry of their music into your ears and heart. Their album, Me, Myself & Us was release in 2007 and has been wowing music lovers ever since. Fall in love with their melodies via their MySpace.
Put your heart back in check on Saturday, November 20 @ 8:30pm when Pascale Picard will take the stage @ Metropolis via M for Montreal.