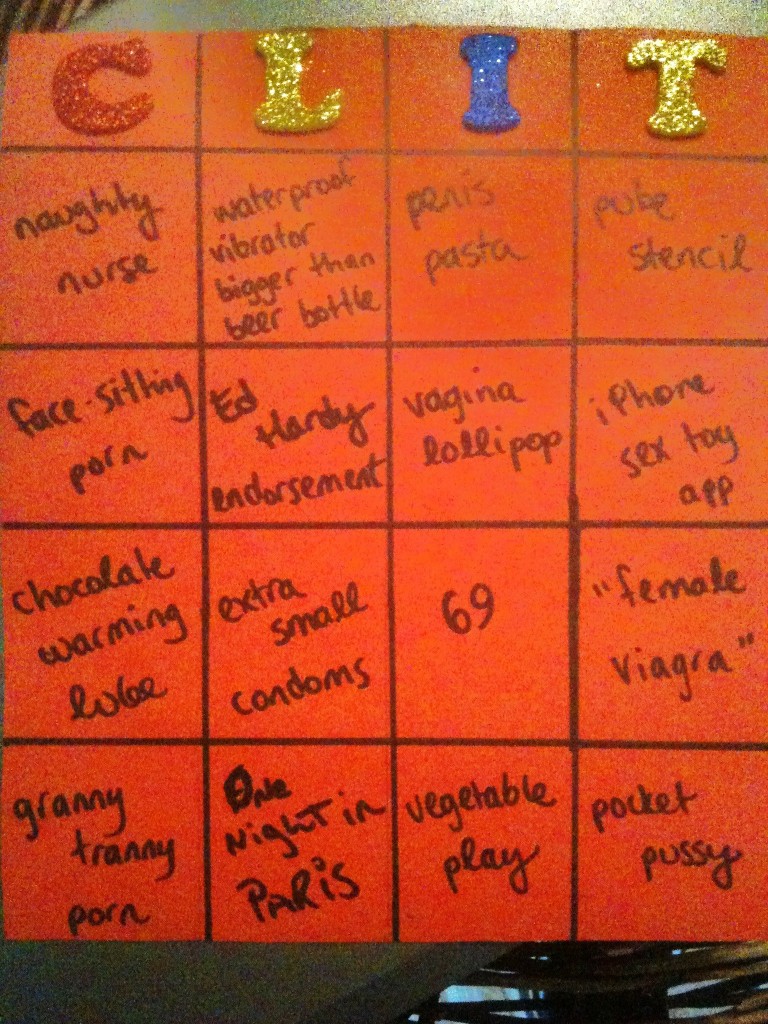 Close your eyes, I've got five words I want you to mull over: Everything to do with sex.
What's the first thing that pops into your head?   Goliath dildos?   Full body leather harness??   Japanese pocket pussy???   These foxy fuck-toys and more await at the Everything to do with Sex Show, taking place this weekend at Place Bonaventure.
Ah yes, the Everything to do with Sex Show, or Salon de la Seduction de l'Amour as it's know en francais, is a bit of a wet dream for a sex columnist such as myself.   They've been tempting us with their ads in the metro all month, billing themselves as "Canada's best adult consumer and trade show."
What new pleasures await?   Surely there must be some technological advances in the world of sensuality and sex.   This year, they feature over 40 local and international exhibitors, two stages and seminars on topics ranging from "Bigger Better Multiples: Orgasms for Everyone" to "Electroplay, the Violet wand."
My imagination has been running wild all week wild as what I expect to see at this weekend's convention!   We decided to turn it into a scavenger hunt of sorts, a veritable bingo of cock, clit and jizz.   Winner takes all my clothes, that is, haha.
In preparation for the convention, I spoke with Phuong Ly of Joy Toyz, a Plateau-based, woman-owned sex toy boutique that will be exhibiting and holding workshops.   Here's what she had to say:
Morning After: Tell me a bit about the workshops you're putting on at the show.
Phuong Ly: Velma Candyass will be presenting her Striptease and Burlesque workshop. It's a little teaser of her 6 weeks course, starting Jan. 26 – March 2. Visitors will see and participate at the seminar. We're talking about the shimmy and shaking, using accessories like the boa and gloves to accentuate the body and curves, the use of music and where "burlesque" originated from.
I will be presenting the "Beginners Guide to Sex Toys" a little teaser from my online course. There I explain how to look and choose a sex toy for the first time, what are the good and bad toys, breaking taboos, etc.
MA: Why is it important to hold a convention like this?
PL: At a convention you get to browse, ask questions, attend a seminar about sex and watch the amazing shows (burlesque performance, fashion show etc). It allows someone who would be shy in visiting a sex shop to come to this type of convention and feel less inhibited. You don't have to buy – although there will be plenty of deals happing at the Salon Amour.
MA: What's the strangest thing you've seen at the expo?
PL: Honestly I could probably say that I've seen everything – nothing really fazes me. But the Salon Amour is pretty tame, so I don't expect to see many 'strange things.' The emphasis on this show is to be inviting and ease people to exploring their sensual self.
MA: Anything else you'd like to add?
PL: We will be presenting workshops "Art of Pleasuring your Man or Women" on Feb. 4 and 11, respectively. And if people missed out on seeing Velma Candyass during her striptease seminar, they can always sign up for the first class on Jan. 26 for the complete version.
Now, let the games begin… check back soon for my review!