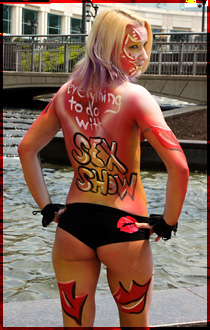 Dubbed North America's best adult consumer show, the Everything To Do With Sex Show, aka Le Salon de l'Amour et de la Séduction, is back at Place Bonaventure this weekend. Last year, to amuse ourselves, we played Sex Bingo, a treasure hunt of sorts of scintillating, scandalous and sexy products we thought we'd find. Based on the results and on what's online, here's what you might find at this year's convention:
1 – More Dildos Than You Can Shake a Stick At
Seriously, it's probably more than you've ever seen before. A veritable cornucopia of phalluses in every colour of the rainbow.
The knowledgeable exhibitors and vendors can help find the perfect toy for you. From classic best-sellers that are guaranteed to please to the hottest trends in the industry, they offer something for everyone. And it's not all just dildos – they also specialize in products and services to enhance one's sex life, including lingerie and leather fashion, body and visual art, erotic massage aids and teeth whitening.
2 – Score in the Sexy Sports Area
According to the website, two new attractions this year are the Sexy Sports Area and the Sumo Lounge. The link to the Sexy Sports Area page yielded only an enticing photo of the Toronto Roller Derby girls. Here's hoping for a showdown of some of the sassiest ladies in local sports!
3 –Live Body Painting and Casting
Part of the sensory experience of the Everything To Do With Sex Show is seeing things you've never seen before. Artist ARKAngel will be on-hand creating living designs on models throughout the show. Beside her will be Peter Labelle, an expert in the field of body casting. Maybe he'll even be taking volunteers, and you'd get to take home a unique souvenir.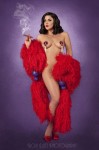 4 – Get Some Sexy Tips From Miss Exotic World, Roxy D'Lite
In 2010, Roxi D'Lite became the first Canadian woman ever to be crowned Miss Exotic World. Calling herself the Drinkin' Smokin' Strippin' Machine, she brings her award-winning brand of burlesque performance, aerial artistry and pin-up model good looks to the main stage of the convention at various times throughout the weekend. As the Reigning Queen of Burlesque, she  muses on the direction her craft is heading in her show The Future of Burlesque.
5 – Sensory Play in a Vacbed with Contessa Alura
This year's Director of the Dungeon is well-known professional dominatrix Contessa Alura. This lucky vixen has traveled the world to give kink workshops and seminars and serves as the Director of Education for the Alternative Lifestyles Community Centre (ALCC) which I will be profiling in the coming weeks.
Just when I thought I'd heard of everything, she brings something unbeknownst to me to the dungeon stage: sensory play in a vacbed. Picture yourself completely enveloped in a latex envelope with all the air sucked out – there's just a hole for your mouth and a hole for your pleasure center. You're completely blinded and engulfed by the latex, cut off from the outside world except for the amplified sensations where it counts. Definitely not for the faint of heart!
If that's not your cup of tea, you can try Falling Under a Flogging Spell, the Art of Sensual Spanking or Erotic Bondage for Lovemaking.
Visit their website for more details and schedules for the workshops and shows.