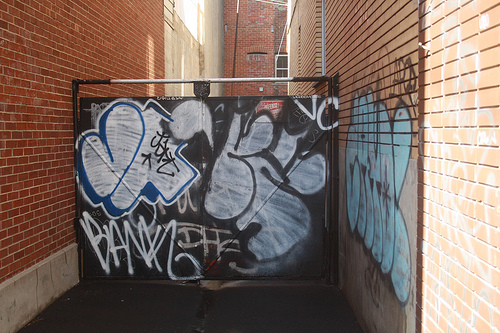 As witnessing crimes go, catching a graffiti artist in the act isn't the most exhilarating (despite Banksy's best efforts).
For me, it was after midnight when I turned down a side road in the lower Plateau earlier this summer. A kid had been standing in the middle of the road – which didn't strike me as that normal, but then what's normal after midnight that close to St. Laurent – and two steps into my turn I saw a second kid, presumably his friend, tagging a garage door.
Too tired to care, I walked past him without breaking stride, glancing over my shoulder to notice his friend-turned-lookout following me all the way to the end of the block.
Apathy and exhaustion are not the words to describe the ongoing efforts on the part of the borough council for the Plateau-Mont-Royal to combat graffiti, with the council rolling out heavier fines this summer after years of ineffectual harm-reduction strategies.
Fines have now jumped from $100 for a first offense ($1000 maximum), to $1000 for a first offense ($5000 maximum) in what the council hopes will stem mounting removal costs.
"It's costly for our borough, and the problem is expanding. We've noticed that the problem has been getting worse despite all our best efforts," said Alex Norris, city councillor for the Mile End district.
These efforts included designating graffiti-friendly areas around the borough, including at skating rinks and under the Rosemont overpass.
Norris estimated that the borough has been spending $200 000 a year cleaning up a graffiti, most of the work being contracted out to private graffiti-removal companies.
"That's money that could be much better spent on other things – on traffic calming, on greening, on improving our parks, on improving our services – it's just money we'd rather spend on other things," said Norris.
Norris' figure, however, pales in comparison to the $700 000 the borough of Côte-des-Neiges-Notre-Dame-de-Grâce estimated it spent last year removing graffiti.
The excessive costs spurred the borough last fall to pass a new bylaw instituting fines up to $1400 on large property owners who do not remove graffiti on their property, and at their own expense, in a timely manner.
The bylaw in question had been scaled back from subjecting all property owners to fines.
The new law has had a positive effect in the borough, according to Norris. He said, however, the Plateau-Mont-Royal council chose not to impose a similar bylaw.
"We worried about doubly penalizing the victim," said Norris.
"We thought that it was just wiser to act on the deterrent issue promptly," continued Norris, "but that doesn't preclude taking further steps later, and if we don't find that we've managed to bring the problem under control."
Norris said the borough has increased the number of fines handed out, but admitted that "it is difficult to catch people in the act."
"It's a tiny minority who are actually committing these offenses," he continued. "I think it requires a certain amount of resources to catch them, and I think as well the fact that the fine for a first offense was so low, that it didn't necessarily have the deterrent effect that we need, and that's why we decided to raise the fines."
Norris said the increased fine was just one element of a "broader strategy" to combat graffiti. The borough has also bought two power washer machines residents can rent out for about $10 a day to remove graffiti on their property.
"I'm not going to claim that this is going to change matters overnight," added Norris.
Graffiti seems to take unabashed pride in occupying multiple legal and cultural grey areas, be it a five-story mural (in NDG of all places) or a lively intellectual property debate.
The issue, for Norris, is less grey – likely explaining my lookout.
"This isn't always artful expression," said Norris. "This is totally unacceptable and we want to send a message to people who might think this is a fun thing to do, that it's a very bad idea, and if you get caught you'll face a very stiff fine."
Photos by Henry Gass