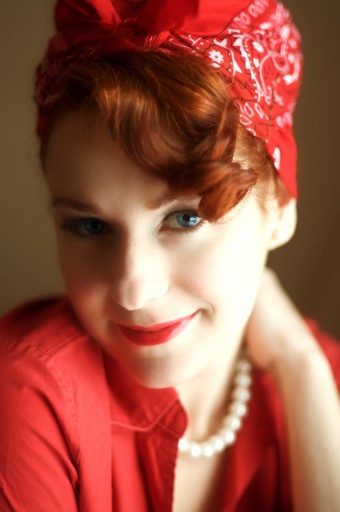 When you think of depictions of blowjobs in porn, words like "art" and "sensual" aren't exactly what comes to mind first, unless you're local entrepreneuse Camille Crimson, a self-proclaimed "geeky redhead blowjob expert". Born and raised in Montreal, Camille developed, designed and runs a number of websites including TheArtOfBlowjob.com and SlowMotionBlowjob.com where she makes erotic films with her long-term partner that focus on the sensuality and passion of the act.
First of all, from one fiery redheaded blowjob-loving gal to another, I love the work you're doing! Have you always enjoyed giving blowjobs?
Thank you so much!  It means a lot to know that there are others out there like me who are glad to see representations of themselves and their sexuality in porn.
I only really hit my blowjob stride in my early 20s.  Before that, I did give blowjobs in my mid/late teens, but something didn't quite connect.  It takes a while to get in touch with your sensuality. Also, I have to mention that I met my boyfriend (of 17 years now!) in my early 20s, so I think finding someone who really clicks with you makes you want to really learn about their body and their pleasure. It's a great mix of things.
On your website, I read that one of your goals it to "change the face of porn". How do you go about doing that?
We just try to make something visually beautiful that is rooted in being ourselves.  It's not really performance, which is what most people consider porn.  It's two people who really care about each other finding ways to share sensual experiences.  It's just not much like mainstream porn.  It's much more accessible to a wider variety of people, and by getting more people interested in sexuality, porn changes and grows.
Do you think men or women get more out of the Art Of Blowjob? For example, are there more men jerking off to it or women learning from it??
We have a pretty broad audience.  Of course, there are a lot of men who like the site, but we have a tremendous amount of couples and single women who enjoy it, both for education and for sexual enjoyment.  We just want to make something that is open to anyone who likes blowjobs.
What are your personal favorite videos from your ample collection?
Oh, such a hard question!  I like looking through my videos because I see different eras where we explored different things. I always think of Those Eyes, which is one of my first big videos with simple eye contact as the focus. I also love Breasts, which is just joyful and sweet. Recently, I've been making videos with cumshots as the focus, specifically facials, so I love all of them. Showing facials as something erotic rather than just degrading feels like quite a departure.
Is it challenging coming up with new scenarios each week??  Do you ever take suggestions from your fans?
We try to be organic about it.  Sometimes we do reach out for suggestions, but we can't guarantee anything because our style is very rooted in our reality.
I noticed that you're very active on Facebook and Twitter. How has social media changed the amateur pornography industry? What role does it play in creating your persona?
Well, I think that being a presence on social media lets you show that you're a real person with thoughts and feelings.  People can be very removed from porn and I want to give venues for people to think and talk about how their sexuality and lives in general are connected to porn.
What are your top 3 blowjob tips for those out there who are looking to expand their skill set and blow their partner's mind?
Creativity, communication and passion!  They're not "tips" per se, but it means a world of difference to think outside the box about the way you approach a blowjob, to actually ask what your partner wants and likes and to find a way to get excited about what you do!
Can you recommend any pro-women porn sites for all my curious female readers? Also, do you have any words of advice for women or couples who are thinking about putting their amateur porn on the web?
I'd obviously suggest my own (TheArtofBlowjob.com and SlowMotionBlowjob.com) and PornographicLove.com, which is made by wonderful close friends Lilyanne Bloom and Max Sauvage.  Then, there are great people like Violet+Rye of UncommonAppetites.Blogspot.com…Really, just go check out past nominees for Good For Her's Feminist Porn Awards and you'll find lots of great respectful porn!
My main advice is to think long and hard before putting anything out there.  Think of your family, your work life… If you aren't sure how it'd play out and you're not sure you can stand behind it, shoot from the neck down and hide any obvious tattoos/decor. Violet+Rye have done it that way and they still make something beautiful.  Beyond that, invest in a good camera, watch porn and movies and try to emulate the shots and editing that you find compelling.
Do you have anything else you'd like to add??
I just want people to try something new, to be honest with their desires and to be open to sensuality in their lives, in whatever form that takes.
Photos provided by Camille Crimson