If you're looking for a good tasting cup of joe, but have concerns over the equitability of your coffee, then the Second Cup on Sherbrooke street in NDG by Loyola campus might be the place to go.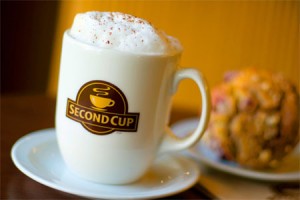 Second Cup carries one brand of fair trade coffee -the rest are 'equitably traded'. The Owner of the NDG cafe acknowledges the ambiguity of the fair trade label, "You don't know what the coffee farmers do with the money after their coffee is traded. Are the workers paid? Do they put it back into the land? We don't know," said Chris Coughlin, who co-owns of the cafe with his wife, Casey Sheffren.
Fairly traded coffee travels through a long and complex bureaucratic business chain so that it is difficult to know   if everyone participating is partaking in the potential wealth. To get certified a group of farmers join together to establish a cooperative of farmers. Together the farmers work towards becoming fair trade certified, which is looked-over by the fair trade labeling organization (FLO).
Through Second Cup's franchise policy, cafe owners are obliged to visit one of the farms that supplies their coffee. Chris and Casey jumped at the opportunity, and visited the farm La Minita in Costa Rica.
"The farm in Costa Rica was run ecologically and  sustainably. The workers had pearly whites and listened to ipods while they worked," said Casey.
It is true that some equitably farmed coffees have employees that work and live in exquisite conditions. La Minita has exceptional health and dental care, and the ecologically run farm sets a very good example for neighboring farms who don't operate under the same fair conditions.
While La Minita serves up an ideal picture, providing coffee beans of  exceptional  quality and keeps their employees happy by reinvesting in the farm, they are certainly not the norm.
Second Cup has specific farms that they want their franchise owners to visit, but at the same time their coffee is owned by Kraft, ranked as the world's second worst company after Exxon according to the Better World shopping guide.
Although the effort is in the right place,   according to Dario Iezzoni, the sales and managing director for Cafe Santropol's roasting house, efforts like this from Second Cup and other 'equitable' businesses, "is like getting 99 slaps in the face and one hug. After that hug, your face still hurts."
Dario says that our consumer choices play a huge role in how coffee farmers are treated. "Don't give your money to places that use these tactics just to get a profit. Give it to someone who truly wants to make a difference," he said.
Dario attends conferences and symposiums on fair trade, and is pushing for monitoring the boats that carry coffee beans overseas. The Second Cup owners simply visited a farm once and, according to Dario, "pays lip service to  fair  trade without exploring what it really means."
Whether or not Second Cup truly subscribes to the 'fair trade' and 'equitable system' for altruistic or profiteering purposes is really unknown to the consumer. The good thing about Chris and Casey's shop is that they do care. They encourage their customers to recycle, which they are not obliged to do, and they selected this franchise because of its equitable purchasing policy.
Casey told me, "Before coming to Second Cup, I drank any type of coffee. I didn't know if my coffee as being farmed by children or if the land was being destroyed, but now I care."