The next time someone asks me if they should travel through South America for four months or more, I will respond with another question: "Are you prepared to lose everything?" Despite bringing along my Macbook Pro, iPod Touch and Canon DSLR Camera, I really felt mentally prepared to lose everything for the sake of world experience. After all, they are just things. I even left my iPhone at home in Canada with the idea that even if they took everything else from me, at least I'd have that. However, despite my preparation, losing stuff sucks!
Below find a tale, not about loss, but about an outstanding couple, a thief, and the power of social media. By the end, it might just restore your faith in humanity, I know it did mine.
First things first: why the hell would I bring all that technology to South America of all places? Well, without this technology I wouldn't have been able to keep this column on Forget the Box, make a wacky video about Carnaval, take a leading role in the development of the Bolivian Express magazine, write a freelance article about the End of Capitalism in Bolivia, or keep a personal blog as much as I did.
Why the hell would I travel by myself? At least with people you might have more security. Another good question, but I feel that if I wasn't alone, I wouldn't have the freedom to meet such incredible people like Damian Martone, the friendly Argentinian graphic designer who allowed me to stay in his apartment for over a week in Buenos Aires through the networking site CouchSurfing or Bruno Beserra, the flight attendant from Brazil who made the video of Carnaval with me and lent me his camera for the rest of my trip.
But all this journalism, travelling and partying can be taxing on the body, so since Carnaval I pledged to limit my drinking and start to run everyday. I kept to my word on the morning of Sunday, March 3rd and hauled myself out of bed at 8 am after a sober Saturday night for my morning run. In my morning drowsiness I accidentally bumped the foot of an Argentinian man sleeping above me in the 10-person dormitory in Salvador, Brazil and woke him up.
"I'm going to Praia do Forte!" he told me confidentially in Spanish as he started to pack his bag. "Cool!" I responded, having been to the nearby beach a few days prior. "There is an amazing, tranquil beach with no people and white sand if you continue walking from the main beach for 10 minutes. You have to go there!" Appearing delighted by the recommendation he agreed to go. I then locked my locker with all my valuables inside of it, took the key and set off on my run.
When I returned 45 minutes later, I saw the Argentinian on the way out, exchanged a friendly "Chow!" and went to unlock my locker. There, I discovered that my MacBook Pro and the Nikon point + shoot digital camera that Bruno had lent me were missing! Fortunately, however, everything else including my passport was there.
Before the embarrassment, disappointment and general bummed out feeling hit, I just felt confused as to how those items were stolen. I always make sure to lock my locker even if it is for a second to go to the bathroom.
Who could have done this!?
Immediately my mind shifted to the friendly Argentinian. He did rush out and he was probably the only person who saw me open my computer on that morning and could have been fast/sneaky enough to nab it, but there was no evidence to prove this. Where's Dexter when you need justice!?
Justice had a rough start. At the police station nearby, the casually dressed policeman did not speak a word of English. Less than three words into my explanation in Portuguese (slow and choppy, but I know it made sense) the officer wrote "Pelourinho" (the name for the historic centre) on a piece of paper. Apparently in Pelourinho there is a tourist police station where they speak English.
Of course when I got there, both employees did not speak a word of English. One of them spoke broken French. It'll do.
In the meantime, a beautiful Uruguayan couple living just north of Salvador named Veronica and Nicolas decided to make a surprise visit to the city to visit Nicolas' sister.
Unprepared for their arrival, Nicolas' sister was in the process of interviewing an Argentinian named Rodrigo about renting out her apartment. Rodrigo and the couple got to talking… The couple works with computers, Rodrigo has a new MacBook Pro (wonder where he got it…). Que buena suerte (such good luck) he must have thought! They can wipe the computer's hard drive and it'll be just like he never stole it! Having never touched a MacBook before, he asked Veronica and Nicolas to show him where the CD eject button was so that he could take out his Bob Marley CD.
Rodrigo went to the beach and left the computer with the couple with hopes that it would be all ready when he came back.
Suspicious of the odd request to wipe my computer's content, Veronica and Nicolas took a peek online where she found my Facebook signed in with my photos. If that wasn't proof enough that this computer was freshly stolen, they saw my full name displayed in the top right hand corner of the screen.
So here's me sitting at the tourist police station awaiting a police report that a snail could have preformed faster, while Veronica is on my Facebook posting a status to contact me because I had been robbed.
When Rodrigo got back, Nicolas would not let the thief back in to get the stolen computer. He asked Rodrigo for the camera too, but the Argentinian wouldn't give that back, nor the SD card. After about 15 minutes of arguing he finally left, without my computer!
It was only by chance that I found out about the status, despite some of my friends' best efforts to contact me through email or Facebook. I had no access to Internet because it was a Sunday and nothing was open.
I was eager to set off for Lencois, a nearby tourist town, to get rid of the bad energy I was feeling in Salvador, but had to wait for my police report – which would take another two hours because the lady writing it was hungry and wanted lunch! Ahem, wasn't there a crime to solve!? This no-pressure attitude while handling necessary services is something that Salvador and Brazil's Bahia province is infamous for.
While I waited upset and with thoughts of my retreat home to Canada out of disappointment, I went to a nearby hostel to visit a Canadian friend. She wasn't there, but her boyfriend Pedro who works at the hostel was. Reluctantly, I told him the embarrassing news – that I had apparently left my locker and lost my computer and camera.
"Dude!," the Brazilian told me in his perfect colloquial English accent. "You didn't see your Facebook status? Someone found it and they want to meet up!"
Huh!? This must be a joke! My first instinct was to laugh.
I went to look and alas, there on Facebook, was my own status updated with all the information I needed to contact Veronica and Nicolas!
Veronica truly went above and beyond to get a hold of me. She messaged Damian, the Argentinian from CouchSurfing and called the hostel to get a hold of me.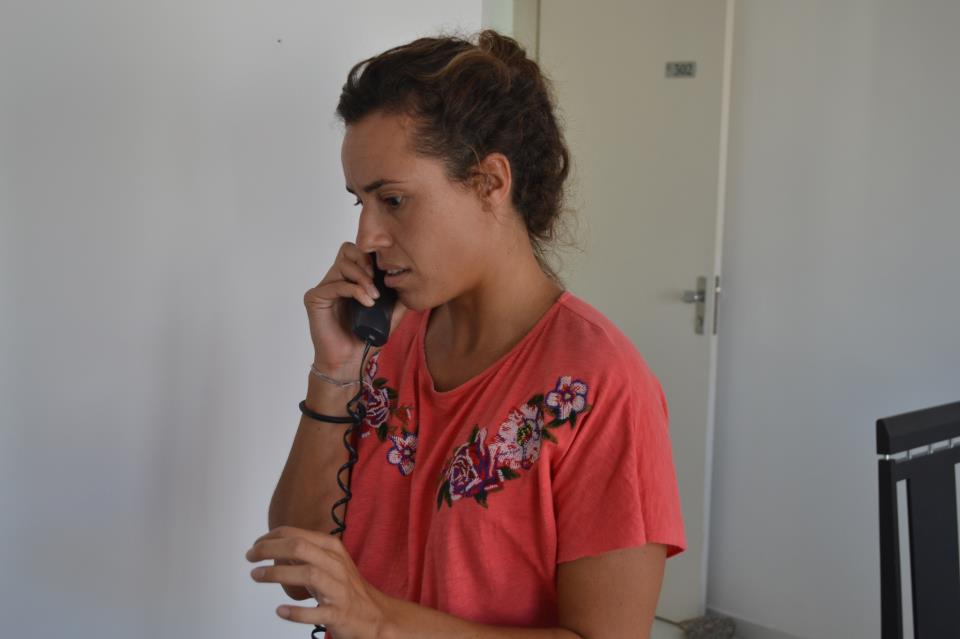 They also took photos and posted them on my own wall to prove that they had the computer.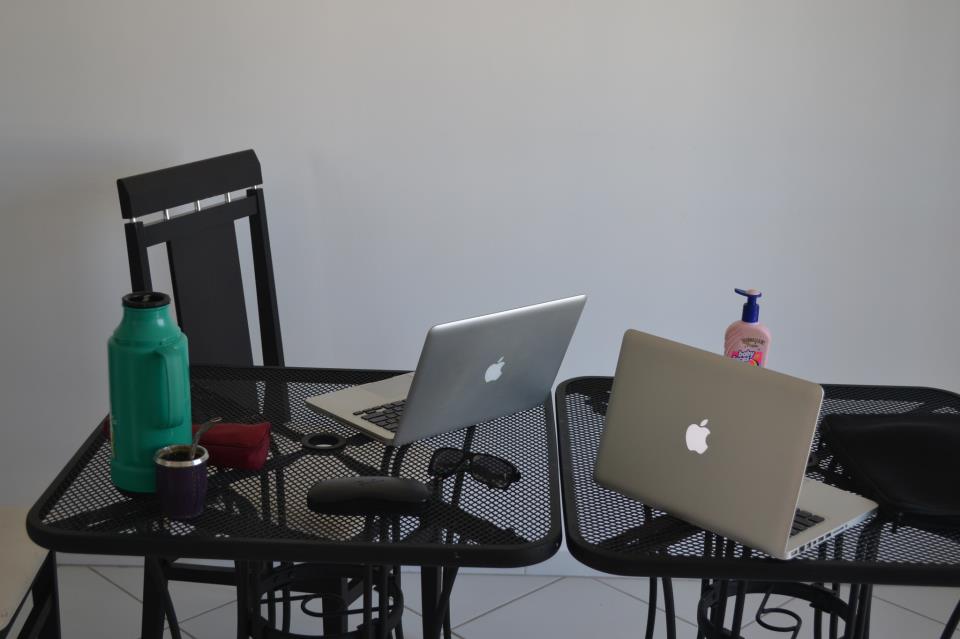 The comments on Facebook were filled with heart warming messages from family and friends from all walks of life. "Good things happen to good people," said a friend I knew from high school, but hadn't seen in over five years. "Well today officially became the shitiest day of the year…! At least Joel Balsam's story still gives me faith in the world!" read a status of a former teammate from the French Jeux de la Communications.

I called Veronica. No answer.
I went to message a close friend of mine on Pedro's computer to express my shock and suddenly I was typing my own name in chat, but I really wasn't… Veronica was also logged in to Facebook and was communicating with me through the same message!
Didn't Facebook used to sign you out if you were signed in at two different locations?
Anyway, Veronica messaged me the address and I punched it into Google Maps. Ready to head out the door, Pedro, the guy who worked at the hostel stopped me. "Dude, that's in the worst and most dangerous part of the city." Crap! Salvador is already pretty dangerous, so I could only imagine what the locals would do to a white gringo like me. Hopefully, a white gringo with his Macbook.
A closer search on Google Maps found the same street in a completely different part of the city. Relief.
Two hours later by bus and taxi I arrived to Veronica and Nicolas' huge condominium and rang the doorbell. Finally, I would meet face to face with the saints that found my computer! But… you guessed it… they weren't there! Crap, I thought as I looked out the window. I was in some strange place and still unsure if this was all real. Seconds later, a happy couple looked up at me from the street and said "hoy!" I knew it was them!
I sat at their kitchen table, still numb from the whole experience as they related the wild story back to me of how they encountered Rodrigo and hustled the computer back for me. Soon, we got to laughing and talking about each others' lives.
If it wasn't enough that they saved me the grief and expense of buying a new computer, Nicolas offered me an old shirt as a keepsake to take with me on my journeys.
I took Veronica and Nicolas out for pizza dinner and drinks and they offered me a place to stay when I come back from Chapada Diamantina, a nearby national park. And, Veronica wants to teach me to surf! How could I say no?
So, there you have it. There are good, even great people out there! Something I will tell the grandkids.
What would you have done?
All in a day's travels!