There's a breeze running through the city of Montreal, a flutter of wind passing through the alleys and streets, past the sex shop doors and ruffling the hair of the protestors.
And carried on that breeze is a single word, loaded with anticipation and hope: Fantasia.
It's been a year since that last heady summer of love and movies, and that time is nearly upon us again, when movie nerds flock to Concordia's theaters to partake of the finest cinematic esoterica there is, and if what's been announced for this year is any indication, this one should be a doozy.
Not long ago I took you on a trip to the past, but we're setting the time circuits on my caffeine-powered time machine to "forward" this week and taking a look at what's in store for us in the coming weeks.
Ace Attorney
Fantasia just wouldn't be complete without at least one film by legendary Japanese film maker Takashi Miike, a man who is to "prolific" what Rush Limbaugh is to "fat and hated". He makes an average of around two movies per year, ranging from sadistically violent and deranged to light-hearted and family friendly (but still a little deranged once you notice).
His new film is based on the popular Ace Attorney game series, particularly the ones starring lawyer/internet meme Phoenix Wright, a young novice lawyer who must square off against rival Miles Edgeworth, with only sidekick Maya, a young spirit medium, to help him.
Yes, a spirit medium, like with astral projection and stuff.
This is the movie that officially got me excited for Fantasia, and is definitely near the top of my most anticipated list.
Sushi Girl
Sushi Girl, a new thriller from fresh young director Kern Saxton, is garnering attention as much for its' cast as anything else. The film boasts such impressive (to certain people) names as Danny Trejo, Michael Biehn, Sonny Chiba, Tony Todd, Noah Hathaway and Luke Skywalker himself, Mark Hamill, who will be in attendance along with Todd.
Hathaway plays Fish, who was sent to prison for six years, during which he kept silent about the other parties involved in the events which led to his incarceration. Upon his release, they treat him to a "sushi girl" dinner, in which raw fish is eaten off the naked body of a beautiful woman (it's a Japanese thing…) . But all is not as it seems, naturally.
The film mark's Hamill's (see what I did there?) return to feature film acting after years gathering critical acclaim as a voice-over actor, and it will be very interesting to see if he can still work well in front of a camera. Plus…he's gonna BE there. MARK HAMILL!
Asura
Keiichi Sato is quickly becoming a big name in the anime industry, and not without good reason. First garnering attention for the visually stunning miniseries Karas, a show which can be equated to a feast that begins with a sumptuous turkey dinner and ends with an old Mcdonald's hamburger someone's sat on, and following up with the acclaimed series Tiger and Bunny, which I've seen little of and therefore can't come up with an amusing analogy for.
Asura, based on the manga by George Akiyama, is set in 15th Century Japan and centers on a young boy roaming the countryside doing whatever it takes to survive amid war and famine.
This is the first time Sato has directed a film about something other than superheroes, and it should be interesting how he handles more serious subject matter. If nothing else, it should be a feast for the eyes.
Despite the Gods
I'm sadly unfamiliar with the works of Director Jennifer Lynch, daughter of the eponymous David Lynch, but the trailer for the new doc Despite the Gods makes me want to change that.
The movie follows Lynch on her many trials and tribulations while filming monster flick Hisss in India, dealing with on-set troubles as well as culture clashes between her and locals working on and around the film.
Lynch has an instantly likeable attitude, opening the trailer with the words "Who knows how the fuck it'll turn out? No biggie, it's only my third and hopefully not last film. Whatever. About a woman who's a snake. And I'm forty. And single. That's cool." with an attitude text alone can't convey.
The film gives me a kind of Lost on La Mancha vibe, but hopefully we won't see Lynch's soul get destroyed by the end.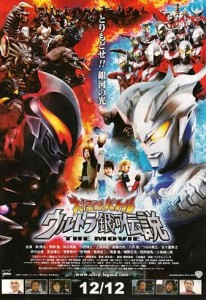 Mega Monster Battle: Ultra Galaxy Legend – The Movie
Go back and read that title again. Ye Gods, that's a damn title.
I'm currently kneck-deep in an obsession with Japanese "Tokusatsu" superheroes, so imagine my shock when one of the more recent films in the venerable Ultraman franchise glared out at me from my Fantasia Program Guide.
I believe the person next to me can attest to my suddenly grinning like a madman.
Wrap your head around this synopsis. Far off in the M78 Nebula, home of the legendary hero Ultraman and his pantheon of successors, the evil Ultraman Belial is freed from his imprisonment by the alien Zarab and given the Giga Battle Nizer, a staff that gives him near limitless powers and the ability to control monsters. Corrupted by the power of the Plasma Spark, Belial goes on a rampage of revenge, and only Ultraman, Ultraman Mebius, Ultraman Seven and a host of others can stop him.
I realize to you uninitiated noobs that may sound like gibberish, my that just makes me smile from the sheer bloodyminded absurdity of it all. And I'm not even that big of an Ultraman fan, I'm a Kamen Rider man myself.
And believe me, gang, that's just the tip of the iceberg. There are a hundred and sixty movies at this year's Fantasia, and I'll be there on the ground floor giving you as much coverage as my humble self can deliver.
Hopefully I'll survive the experience.