It seems like in the last few weeks that the lumbering walrus that is summer finally reared its head and dropped its heaving, sweaty bulk on the people of Montreal, because MAN has it been hot lately. Thankfully, the Fantasia Film Festival is here to give us the perfect excuse to stay inside, bask in air-conditioned comfort and take in the latest cinematic delights they've brought us this year. I've only been able to take in two films so far (curse my need to work and write) but judging from Fantasia's first offerings, we're in for a good three weeks.
Miss Hokusai
Even though I'm not much of an anime watcher these days (at least when it comes to series) I always make a point of checking out as much of Fantasia's anime content as I can, and this year the fest started on some, with Miss Hokusai making its North American Premiere.
Miss Hokusai tells the sorta true story of O-Ei, the daughter of a famous Edo period artist. For the most part, the film is a fairly light slice-of-life affair consisting of short vignettes taking us into daily life in the period, O-Ei's troubled relationship with her father, and her close bond with her younger sister.
Where Miss Hokusai feels a bit muddled and off-topic however, is the odd paranormal/ghost story sub-plot that sees O-Ei, her father, and his student helping a local courtesan with a ghost problem. It's the best example of the only real problem the film has, which is a bit too much variety for its own good.
The soundtrack, for example, will alternate between contemporary rock and soft, period-accurate woodwinds and percussion instruments, giving the film an unpredictable, almost discordant soundscape. Similarly the sudden switches between slice-of-life drama and paranormal spook-ery may leave a lot of audience members confused about what the aim of the movie really is.
This isn't helped by the fact that the episodic nature of the narrative makes it somewhat hard to get swept up in the narrative. Maybe if there were one vignette less, so the rest could feel more fleshed out, perhaps this problem would be lessened.
That being said, Miss Hokusai is still a perfectly pleasant and enjoyable experience, and got Fantasia 2015 off to a great, if inoffensive start.
Kung Fu Killer
If there's anything that says Fantasia more than anime, it's Donnie Yen kicking someone in the head, and Fantasia delivered that on Day 2 with Kung Fu Killer, a Hong Kong beat 'em up that delivers exactly what you want it to: action, style, melodrama and intense Donny Yen faces.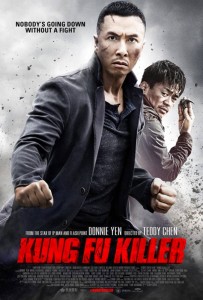 Yen plays Hahou Mo, a former martial artist serving a prison sentence for killing a man in a duel. But when a mysterious serial killer starts tracking down and killing martial arts masters, Mo is brought in to help the Hong Kong police bring the killer to justice.
Kung Fu Killer is a definite crowd-pleaser, since it gives you exactly what you want going in. The fight scenes are fast paced, well shot and full of style, the pace stays brisk and to-the-point practically from the word go, and Yen does what we all know and love him for: kick ass and look intensely off into the middle distance while swearing revenge for this, that or the other thing.
The one problem is that for a gritty martial arts flick, Kung Fu Killer seems too reliant on digital effects, greenscreening and wirework. Not that there's anything wrong with "wire-fu" in general, but in a contemporary-set Donnie Yen vehicle, focused more on grit and realism than Wuxia movies, the few uses of wirework seem out of place and distracting.
And that goes double for the film's post-production visual effects, the most egregious example being a terrible looking CGI boat jump. It wouldn't be such a big deal if it weren't a stunt I've seen done for real in at least a dozen movies. Who knows, maybe they had a good reason not to attempt the stunt for real, but the sudden CGI took me out of the moment hard.
But these gripes aside, I had a lot of fun with Kung Fu Killer. The action is solid and the melodrama thick enough to cut with a knife, which kept the audience sufficiently amused, and I was right along with them.
If nothing else, watch it for the villain's hilarious lack of any subtlety when it comes to facial expressions. He's like the Chinese Matt Smith, in every second shot his face is contorted into some weird cartoon-approximation of what a normal human expression looks like and it's hilarious and endearing every single time.