Off from the plane and right to Fantasia I go, having missed the first few days whilst in Sweden. Waiting in line with my FTB press pass, I feet like a giddy child. In the VIP line everyone has little badges which stubbornly flip to the wrong side so you can't secretly check who is whom. Thus, I decided to be bold and ask my neighbour who he is: "I write for Cahiers du Cinema," he says nonchalantly. My mouth drops open, nothing comes out. If this was a pissing contest, he just peed Niagara Falls.
Alter- Egos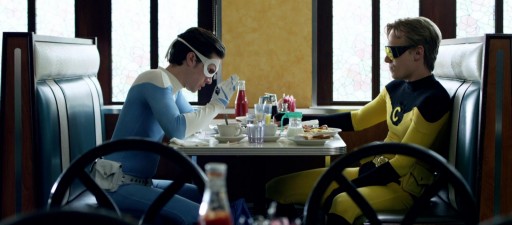 Alter-Egos was one of the first films I saw at the Fest and I was very excited. I am a big fan of superhero movies that turn the idea on its head, exploring and toying with superhero conventions such as Super and even Some Guy Who Kills People from last years' fest.
Two very good short films opened for Alter-Ego, Alchemy and Other Imperfections (Zachary Rothman) and Super-Ego (Hugo Matte), a short inspired by Alter-Egos. The two shorts were vastly different, Rothman's film is visually beautiful and quirky, speaking about loss and relationships, science and sadness. The second short, Super Ego, is about a woman going on blind dates with various super heroes (and the unavoidable pitting of egos that goes along with any sort of dating situation). This short film was brought to us by the Montreal KINO collective.
Alter-Egos is the story of two superheroes who meet up at an off-season Hampton Bay Inn at a time when superheroes have lost all government and public support. Shit is bleak and for Fridge, our superhero in blue, even his love life is going under: his gf is cheating on him.
Alter-Egos was funny, but ultimately it isn't genre defying nor changing. The performances by the Fridge (Kris Lemche) and C-Thru (Joey Kern) are the best part of this film as well as their colourful suits, which according to Galland were the inspiration and raison d'etre for the entire film. Alter-Egos also stars Danny Masterson (That 70's Show), as a loser cop, and Brooke Nevin (Animorphs), as the inn keep.
In the end, the setting of the film plays against it as the empty Hampton Bays eventually make it hard to "buy-in" and suspend disbelief. Or maybe, it just got kinda boring.
Black Pond
After my first day of the Fest, I was a little worried that this year's program wouldn't blow me away as some of last year's films did. Fantasia is the place I go to reflect on the big questions, it's like going to a church of sorts: existential crisis needed, laughs required, popcorn optional.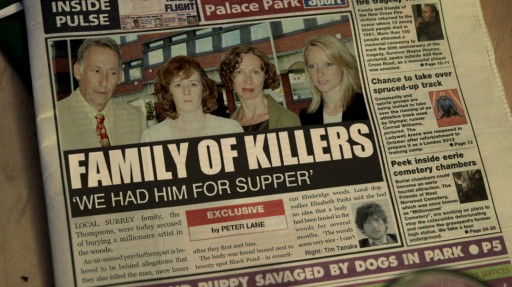 Black Pond tells the tale of the dysfunctional Thompsons whose encounter with the strange and eccentric Blake (Colin Hurley) causes a chain of events that leads to them all being suspected of murder. Told in a pseudo-documentary style, the film looks at the perspectives of Tom (Chris Langham) and Sophie (Amanda Hadingue), their two yin and yang daughters and the girls' lovelorn pensive roommate Tim, played by co-director Will Sharpe.
Black Pond blew me away, all the way to England. I usually don't enjoy British films but this one had me snorting. Black Pond and its first time filmmakers Tom Kinglsey and Will Sharpe have been the recipients of many awards and deservedly so. It was funny, interesting, well shot and very poetic.
The performances by the entire cast were great and all the characters were interesting. The overall standout performance was that of the father, whose simple desire for happiness is charming, and that of the strange, possibly insane, therapist played by Simon Astell. Thanks for restoring my faith, Black Pond.
Resolution 
I had very little expectations for Resolution and almost skipped it entirely. That would have been a big mistake and I am glad I stuck around for the Canadian premiere.
Filmmakers Justin Benson and Aaron Scott Moorehead were at the screening to open the film and their introduction was hilarious. This boded well for the film whose sense of humour is equally as hilarious.
Benson and Moorehead give us an unexpected gem in this film about a man who tries to help his former best friend sober up (against his friend's wishes). Chris (Vinny Curan) has been doing lots of drugs and living up in a house in the woods when Michael (Peter Cilella) receives a video prompting him to decide to once and for all try and get his friend clean. As the two play it out in the house, weird things begin to happen and to appear, as if leading them along a certain path.
Resolution has a great sense of humour about its own horror elements whilst maintaing its visceral scariness which is a difficult thing to pull off. It is a novel film giving us something I've never seen before and providing some interesting meta elements. The performances were right on and the setting was creepy in unexpected ways.
I don't want to say too much for fear of giving away the film or impose my reading of the film for ya'll. Resolution was funny, scary, and fresh. Highly recommended.
Citadel
In Citadel, Tommy (Ironclad's Aneurin Barnard) is wracked (almost crippled) with fear after witnessing his pregnant wife beat up by a group of hooded youth. Seconds after his wife is hauled away to a hospice, Tommy's infant is placed into his hands and his fears begin to take hold.
Nine months later, Tommy begins to suspect that something is after his daughter. Is it his agoraphobia talking or is something really really wrong? The setting is almost completely deserted for 'rejuvenation', there is a sort of apocalyptic feel to the film. Tommy is reassured by a kind nurse named Marie that things will be okay and that his ptsd is misleading him but Tom also encounters a priest (Braveheart's James Cosmo) who tells him that some mysterious "they" are coming for his daughter Elsa.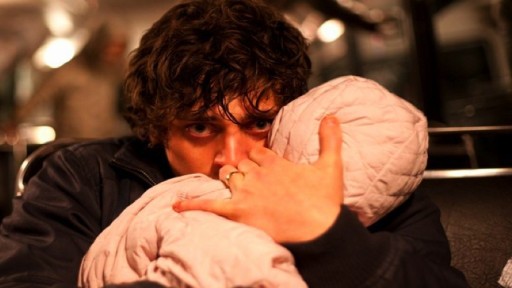 The premise of Citadel peaked my interest from the get go. The director of the film told the audience that he was inspired by a personal experience that he had being beat up by a group of teens and threatened by a dirty syringe and then subsequently battling agoraphobia. He called it: "half psychological horror, half autobiography."
This explained the thoroughly convincing portrayal of how horrific it is for Tommy to leave his house. This film was great all around, great performances, visually captivating with the settings looking bleak and threatening. The question is, are these threats real or imagined by Tommy? The film answers this and that's when shit really gets crazy, but I won't spoil it for ya'. Enjoy!