Right before going into the theatre, I told a friend in my usual wild eyed matter, "I hope there will be lots of blood in this film!" I turned around and there was the producer of Hemorrhage who chimed in: "maybe just a little!" Indeed, Edmonton filmmaker Braden Croft has delivered a film in which the question "which came first, the blood or the murder?" can actually be asked.
Oliver, played by Alex D. Mackie, is released from a psychiatric facility and is determined to fall into line with a normal life. Then he meets a girl, and although his social worker advises him to stay away from any sort of attachment, he can't help himself but try to get to know the lovely Claire, played by Britney Grabill. Problem is, Oliver is plagued by bloody visions and his meds seem to be doing jack shit.
Croft's first feature film is bold, intriguing, and has a knack for keeping you on your toes. Considering it's low budget, the film proves itself to be resourceful and viscerally gripping.
I had the chance to quickly interview the very handsome Croft and chat with him about his influences, his main character and upcoming projects.
What are your cinematic influences?
Braden: I noticed you said influence(S), plural! I love the classic directors like Alfred Hitchcock, Henri-Georges Clouzot, Orson Welles, Billy Wilder and Stanley Kubrick. More contemporary masters like David Fincher, David Lynch, Michael Haneke and Jeff Nichols—of whom I'm extremely excited to follow—are also major influences. There's too many great directors to choose one!
How did this project come about? What led up to it and what were some obstacles you faced in the making of Hemorrhage?
The project came about after I wrote my first feature script—a massive action film—and realized I couldn't shoot a page of it. After toiling away at day jobs a switch was turned and I set out to make Hemorrhage before common sense and doubt caught up. The major obstacles I faced were mainly due to my relocation to my hometown of Edmonton, Alberta. Finding experienced crew, actors and key production people would turn out to be a mixed blessing. Instead of the often found 'indifferent crews' and difficult actors I found enthused people willing to work because they love film and believed in the project. That was priceless. Also, my friends, family and community were extremely supportive in a multitude of tasks ranging from acting in bit roles to finding free locations to shoot. The greatest obstacles soon turned into assets.
What attracted you to the subject matter of the film?
Initially I was drawn to the idea of a serial killer being in love. I was also fascinated with brilliant individuals plagued with mental illness and how they struggled to cure themselves. Combining the two gave me my protagonist and inner conflict behind the story—can you consciously defeat what may be your 'true nature'?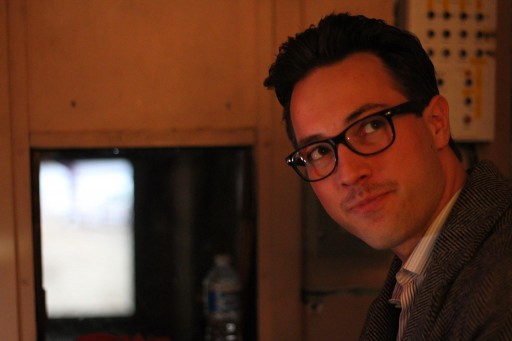 [Director Braden Croft looking sharp.]
In terms of Oliver's character, what kind of research did you do in regards to mental illness to write the character?
Family members and close friends of mine provided a jumping off point to research mental illness. From there it was my own curiosity of reading case studies and articles of people I'd hope to mold into my protagonist.
How do you explain Claire staying as long as she did?
The film is such a subjective telling from Oliver's point of view that I felt Claire's inability to escape only served as another layer to his madness. The entire film deals with perception and reality from Oliver. Why she stays—to me—has always been a question of 'how much of this is objective and true' vs. 'does she actually care to help him'?
What's next for you?
I have two projects in the oven: one, a tongue-in-cheek horror in the style of Deliverance and Cabin in the Woods; and the other, a two-hander psychological horror/thriller in the vein of Hitchcock and Clouzot.