Right on cue, summer storms descended on Montreal just as Fantasia rolled in. Coincidence? I think not.
Thus, mid lightning storm, drenched from head to toe, feeling like a video game character acquiring a coveted magic item I darted over to the Concordia campus to claim my press pass. This is how my Fantasia quest began: heart pounding, soaked with rain and sweat, nerves dancing perilously close to being shot. All of this as I tried to dodge what I suspected might be the next spots to attract Zeus' wrath. Spoiler: I didn't get hit by lightning…this time.
Animals (Spain, 2013)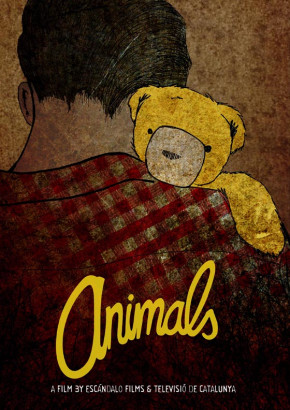 Animals is the award winning first feature by Marçal Forés. This Spanish film centers around teenager Pol (Oriol Pla) and his best friend Deerhoof, a walking talking drumstick wielding teddy bear.
Pol and Deerhoof do what best friends do: play rock music and talk about comic books. However, Pol begins to feel the pressure to keep his friendship with the plush a secret.
At school, Pol has a friend in Laia (Roser Tapias), who very clearly has a crush on him, and in the eccentric Mark (Dimitri Leonidas). As Pol struggles with coming of age questions of his own, something strange seems to be happening at his school and a new mysterious student (Augustus Prew) could be involved.
Although the film wasn't the crescendo-esque bloody nightmare I had expected it to develop into, Animals was probably better than I could have imagined. It hits a very different kind of spot.
Animals is hands down visually stunning, unconventional and at times reads like a poem. Forés crafts imagery and surrealism using sound and locations brilliantly to create a dreamlike world in which beauty can quickly turn deadly.
Animals boasts an incredibly kick-ass soundtrack including songs by postpunk band A Frames and underground punk rock band The Bananas. Animals is definitely a slow-paced film but if you let yourself enter into its world, the rewards are plenty in terms of the emotional and bewildering experience. Fans of Donnie Darko should find something to love in Animals, which echoes similar filmic notes.
This debut film is definitely a candidate for Best First Feature for this year's Fantasia awards and I'll be adding it to my film collection as soon as this becomes a possibility. I'll also be tracking down the soundtrack and recommend you do the same.
The Broken Circle Breakdown  (Belgium/The Netherlands, 2012)
The Broken Circle Breakdown (directed by Carl Joos) is the story of a couple whose daughter is diagnosed with cancer. The film presents the story in a non-linear fashion recounting how Elise (Veerle Baetens) and Didier (Johan Heldenbergh) met, fell in love,  how she came to join his Bluegrass band and how their daughter's illness affects their loving relationship and each of them as individuals.
I had very high hopes for The Broken Circle Breakdown. Unfortunately, it felt like the film was trying too hard at times to elicit emotions.
I personally was unable to connect with the character of Elise, who makes up half of the film's emotional meat. It's the characterization itself that I have a problem with. I'd cite a case of manic pixie dream girl but that's not quite it.
I found myself increasingly aware of how much Elise's character is made to be looked at and not so much to be understood. Elise is naked quite a bit in the film and I started feeling like her tattoos were more important to the film than who she is as a person.
Her back story is barely alluded to (except that she's had a series of shitty boyfriends and works at a tattoo parlour). She enters Didier's world and it is his world the film and Elise inhabit: all the important actors in the film are his friends, his family, his house, his horse, his band, etc. All of this compounded to making me a bit pissed off.
On the plus side, I definitely felt like Dider's character was relatable. Like I said, the film offers more in terms of fleshing him out as a subject. His political and existential monologues are highly entertaining and his emotional breakdowns are heart wrenching.
Indeed, most audience members walked out of the theatre in tears and my film critic peers seemed to love The Broken Circle Breakdown. Thus, take what my jaded heart is saying with a grain of salt and give this film a try.
Cottage Country  (Canada, 2013)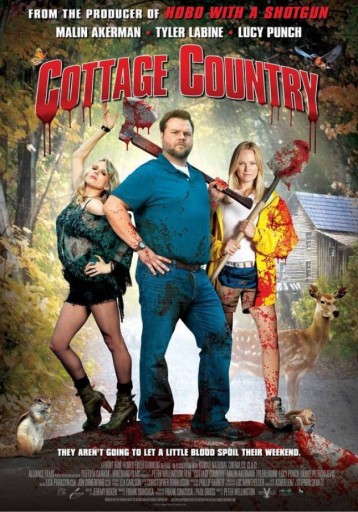 Peter Wellington's Cottage Country had its North American premiere at Fantasia to a packed audience.
The film stars Tyler Labine as Todd and Malin Akerman as Cammie –  a young couple with an unnerving amount of matching outfits heading to the Todd's family cottage for a special couple's weekend. Their peaceful weekend is interrupted by Todd's asshole brother Salinger (Dan Petronijevic) and his brother's trashy girlfriend (Lucy Punch).
Feeling the pressures of needing quiet time after a 60+ hour work week and Cammie's insistence that he get rid of this interruption, Todd ends up accidently getting rid of Salinger in a rather permanent way. As Cammie and Todd cling to the hopes of salvaging their cottage retreat misadventures and unforeseen complications ensue.
Originally, I wasn't going to go see Cottage Country. The premise hadn't inspired me and neither had the trailer. I'm extremely glad that I changed my mind. If there was an audience award for Best Surprisingly Golden Film of the Fest, Cottage Country would take it.
Humour is very hit or miss and I don't often enjoy comedies BUT Cottage Country had me laughing and even snorting throughout. The dynamic between "Toodles" Todd, who is a hardworking insecure who can't seem to catch a break, and "Cuddlebum" Cammie, who is determined to do anything she has to to keep their relationship on track to the altar, is stellar.
The careful play of knowing just how far to push jokes utilizing restraint and subtlety with the quality of the cast result in a surprisingly hilarious dark comedy.