We need to prioritize public transit expansion in our city. We need to transition off of our over-reliance on automobiles, cut down considerably on local pollution, gridlock and the endless cycles of roadway destruction. Train, subways, buses and trams are all part of a veritable transit cocktail we'll need to build over the course of the coming generations to make public transit the principle fashion by which we get around the city.
The status quo is very expensive and the cost is going to rise. If the city gets out ahead of this issue and plans for a massive transition we can start reaping the benefits sooner, and we'll be better off the earlier we start.
That said, let's consider three new fantasy mass transit systems I've recently come across. I love finding these – so much to think about.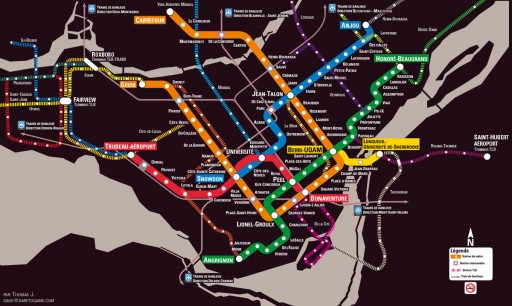 Métro extension and LRT proposal by Dashspeed
This one's novel because it presents a modest Métro expansion plan along with the development of an integrated LRT system.
Métro expansions would include a five and three-station extension on either side of the Orange Line (west and east respectively) without closing the loop and six stations to the Blue Line towards Anjou. These are very likely developments given population growth in Saint-Laurent, Petite-Patrie, Rosemont, Saint-Leonard and Anjou.
What's fascinating here is the idea that the airport ought to be served by a new Métro line which in this case would follow part of the once-proposed western extension of the Blue Line and link it up with Bonaventure and Peel stations (and Gare Centrale by extension) with an apparent stop somewhere very close to the Mountain. Based on the map I wonder if the idea isn't to dig out a Métro tunnel alongside the existing Mount Royal Tunnel. What an impressive job that would be!
I like this proposed Red Line development, but I like the proposed LRT network even more. It's an effective way of providing a higher capacity alternative to a bus while spending less on infrastructure. Examples: the Magenta Line connects Bonaventure and Windsor station with Griffintown, Goose Village, Pointe-St-Charles and Nun's Island, the Grey Line crosses the Champlain Bridge and serves all the South Shore communities from Brossard to Longueuil, there attaching to the Yellow Line.
A Violet Line connects Papineau station, crosses the bridge and on to Saint-Hubert Airport, a Blue Line LRT runs from a proposed intermodal station at the Université de Montréal through Cote-des-Neiges, Saint-Laurent and Laval onto Mirabel Airport. Dashspeed also includes some 'redundancy' lines, such as the tram running along The Main from Jean-Talon to Place-d'Armes on the Métro Orange Line and along Decarie and Marcel-Laurin.
I also like how the tram lines anticipate future on-island densification, and that the West Island requires a comprehensive tram network if we have any hope of cutting back on their car dependency. I think buses have outlived their utility, and reserved-lane LRTs could serve the area much better. Also, interesting idea to have both LRTs and a Métro Line connecting directly to Trudeau.
Métro expansion by JohnQMetro
This plan is pretty bold and would, if implemented, greatly increase the area we consider to be urban Montréal. A lot of this based on other plans touted about for years, such as extending both ends of the Blue and Green Lines, having part of the Yellow Line twinned with the Green Line in the downtown, using the Métro to connect to Trudeau Airport and closing the Orange Line to form a loop.
What's novel here is the orientation of the map, more aligned with true north than we're used to. Doing so makes the case for eastern and northern development a bit easier – I think we too easily forget there are 500,000 people on the other side of the river and another half-million living in the ring of northern suburbs.
These areas need to be better connected to the CBD, in a more direct fashion. The Red Line in this example would connect Griffintown, Pointe St-Charles, Goose Village and Nun's Island to the CBD in addition to the Plateau and McGill Ghetto. A true North-South Line is a very novel proposal indeed, and would seek to link to separate but nonetheless iconic neighbourhoods. We could call it the Hipster Line.
Other neat ideas here: a Parc Avenue focused Métro Line linking the city with Brossard and Saint Laurent. Also, many more two-line access stations and a Métro linked directly to the Montreal General Hospital and Rockcliffe Apartments over Cote-des-Neiges road.
It also occurred to me looking at this design that spacing out stops farther away from the city is a neat solution to the problem of population density in transitional residential zones.
One of the many arguments against Métro expansion is that many think it would require stops as frequent as we currently have, which in turn would make the commute very long indeed. By stretching the average distance between stations, Métro trains could conceivably reach higher speeds. As population density increases, new stops can be placed in between.
Métro expansion and surface tram proposal by Richard Sunichura
Our final entry is like the former, heavily influenced by contemporary planning and proposals, including a Pie-IX Line going up into Montréal Nord and RdP, closing the Orange Line loop, and adding a few stations to the ends of the existing lines.
I find this plan a bit underwhelming and think too many stations have been added to the Orange Line in Laval. I'm also not crazy about having a y-shaped Métro Line even if part of it is attached to the airport. This plan also utilizes trams, but does so as if to build bridges between Métro lines almost as if to bypass them.
Final point on this one, utilizing the Mount Royal Tunnel for a Métro Line is one thing, but this makes it seem as if a Métro Line would be built under the CN track and AMT's Deux-Montagnes Line all the way to Pierrefonds. I'm not sure what the logic is here.
In any event, I'm glad people are still making these. If we truly want our city to grow we're going to have to start thinking big about public transit in Montréal.
Think about it – this isn't hippy-dippy bullshit, it's basic economics and the cost of a personal car is high and getting higher. Providing an efficient and comprehensive alternative throughout the metropolitan region by extension transfers a considerable amount of disposable income back into the pockets of the citizenry.
A thought for the New Year perhaps. Change is coming in November.
An expanded version of this post originally appeared on TaylorNoakes.com