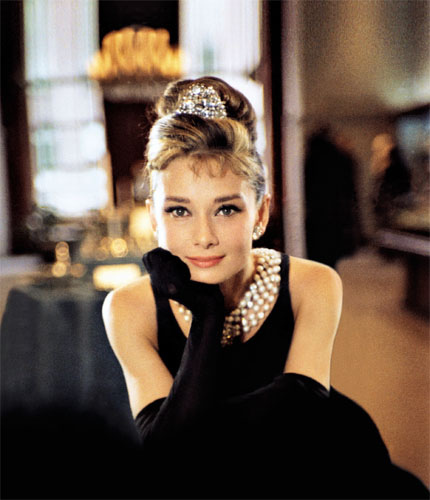 Audrey Hepburn doing a little window shopping during Breakfast at Tiffanys (1961)
For a film to be good, you need a strong script combined with solid acting and directing. Obviously. Then there's also all those other elements that go into filmmaking; elements that we as audience members often don't think about as we're too mesmerized by Vin Diesel kicking butt, Johnny Depp acting like a lunatic pirate or Ryan Gosling breaking hearts.
For a film to truly go from good to great, details like lighting, set design and music are absolutely crucial.   And we can't forget fashion of course, the wonderful light and fluffy icing on a great film cake!
Since the beginning of cinema, filmmakers have realized  that the right outfit on an actor is an important part of creating iconic characters that resonate with audiences. Film is a dream machine, and so when we mere mortals gaze up onto the screen and see films like Breakfast at Tiffany's or Flashdance, afterward how can we not want to cut up all of our sweatshirts and try to rock a tiara?
Without further ado here are Friday Film Review's top five favourite fashion moments in film;
1. Diane Keaton making menswear sexy in Annie Hall (1977)
When you think  about a Woody Allen film you think about the great ensemble casts and razor sharp wit of the dialogue, not the style. And yet with Annie Hall we have one of the  all time greatest moments of fashion in film: the character of Annie may be a flaky wannabe singer/actress, yet  no one can deny that her style is perfect  1970s 'New York cool'.    One would imagine men's pants and ties working on a butch lesbian and yet Diane Keaton manages to make the look effortlessly feminine.
2. The entire cast during every single moment of A Single Man (2009)
Anyone who knows even a little about film and fashion can't be surprised why this film is on the list.  A Single Man is the debut feature of well known fashion director Tom Ford. With a cast of Colin Firth as  a  depressed  university professor mourning the death of his lover  (The role that he REALLY should have won his Oscar for) Julianne Moore as his aging party girl best friend, and Nicholas Hoult as a beautiful young student who just might help Firth  move on with life, the film  has all those three key elements: script,  acting and directing in spades. But what really makes this film is the fashion.  Just like on Mad Men every  suit, jacket and dress is swoon worthy and makes you wish you could time travel back to the 1960s.
3. Sienna Miller as Edie Sedgwick in Factory Girl (2006)
While the film itself was mediocre at best, in Factory Girl Sienna Miller reinforced her status as a fashion icon. There was plenty to envy  about the life of 1960s party girl Edie Sedgwick; she came from a fabulously wealthy family and  made it into the inner circle of pop artist Andy Warhol. And then, of course, there  was that style of hers. Miller brings all of that to the screen with such energy and confidence that you can't help but want to put on some on  leggings and giant drop earrings, throw on a fur coat and head out for a Saturday night on the town.
4. Kirsten Dunst making fashion royally cool in Marie Antoinette (2006)
It took me awhile to truly appreciate Sofia Coppola's third feature film as a director. Like her other films Marie Antoinette has some slow moments and as  I've admitted before in  this column, I don't have allot  of patience for slow films.  Yet, from the very first time I saw this film while  on a trip to Paris, I fell head over heels in love with the style.  Contrasting a 17th century bio pic with a  20/21st century indie rock soundtrack? Awesome. Costumes full of lace, bows, furs and vibrant colors that are so appealing you find yourself wishing that it could still be socially acceptable to wear corsets and hoop skirts in your everyday wear. Brilliant.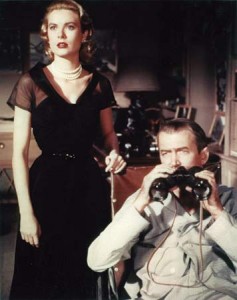 5. Grace Kelly helps Jimmy Stewart solve murders and looks fabulous while doing it in Rear Window (1954)
Movie stars come and go. But then every now and then there are those elusive  actors and actresses who reach movie god status; no matter how much time goes by they will always be beloved and worshiped. Grace Kelly, the drop dead gorgeous actress who left Hollywood to become a real life princess, rightfully earned her status as a movie god with films like Rear Window.    As the girlfriend of Stewart's  commitment phobic photographer,  every single moment Kelly is onscreen she is perfectly put together. And with the mid calf dresses with full skirts and shear collars, pearl necklaces and of course topping it all off with red lipstick, makes you immediately want to raid your grandmas closet.