As a woman who has shit to do I have often struggled with the fact that most of my clothing does not have pockets in it. Why a pair of pants would have faux pockets blows my damn mind. The only female clothes that have pockets are usually the smallest cut off booty shorts where the pockets are comically longer than the shorts themselves or old lady house dresses. I normally wear cute skirts and dresses with leggings underneath.
Very rarely do I find fashionable stuff with pockets, I (along with every other female out there) freak out with pure glee when I come across fashionable and practical pocketed clothing, its like finding a fucking unicorn!
Vintage dresses and stuff from Target usually have the best chance of pockets. When we do get pockets often they are not deep enough. It is all about accessibility and accessories.
Women need to buy purses to hold their stuff. We are marketed all kinds of beauty products, life essentials, hand sanitizers, mini perfumes, bags of candy, and all kinds of other random purse MacGyver action items. A man can keep all he needs in his deep pockets. A wallet and cellphone, that's it, perhaps a tiny little beard comb if he's fuzzy.
If I wear a fanny pack I am seen as less sexy and lame. I love fanny packs regardless of how cool they are. Putting your giant cellphone in your back pocket is asking for a swim in the toilet. Do I just start carrying my stuff in my snatch? Is it nature's pocket?
My roommate Lucy has some thoughts on pockets: "Women don't deserve pockets, we have to load everything into our purses," as she digs through her purse looking for change. It's bullshit.
I remember my tiny grandmother having a bad shoulder from carrying her XL handbag. My aunt and mother going into back room Chinatown black-market purse shops trying to undercut designer prices. Watching my mother sit in front of a big screen TV tuned to the Liquidation Channel or the Home Shopping Network, precursors to the internet shopping that my peers are obsessed with. Amazon Prime is a dangerous beast.
When I was a bartender I had to get a bottle opener necklace and wear an apron to be efficient. It is easier for a pants wearing man to carry what he needs. Thank goddess for Carabeaners, I use mine to clip to a belt or sometimes my leggings when I don't want to carry a stupid purse.
Forever the fashion industry has been run by primarily gay men. Women are hangers, consumers, people who like accessories, told to just spend their husband's money on mindless junk.
A lot of girls carry things in their bra. I have multiple problems with this. First of all fuck bras! They are another social construct that I do not wish to participate in.
It is embarrassing when my mother calls me out on not having a bra on. It pisses me off that she doesn't understand that it was just an advertiser who made all women buy these undergarments.
I have had larger breasted friends tell me they need bras for comfort and back issues, I guess that is the exception, if you want to wear bras feel free, I am not judging you, just don't judge me for not wearing one.
Second part of this is the fact that cellphones are in boobs. I do not want a phone sized titty tumor. Cellphones are evil in general, they are starting to set shit on fire, don't want that near my boob. Also sweat water damage, I am a sweaty betty. Third problem with bra pockets is sweaty boob money. It is gross, nobody likes to be handed wet smelly money.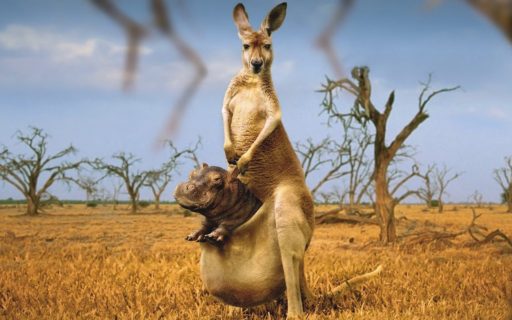 I want a pocket like a mother kangaroo carrying her baby Joey. I want my precious cargo to remain safe inside of me. Gender politics and the fashion industry holding back women stops me from being a fashionable female capable of functioning in the fast paced world around us. I don't need a giant purse holding me back and weighing me down. More pockets need to be seen on the runway, women are demanding them!
Wearing functional men's clothing is a social taboo. The material our clothes are made of is generally thinner and less long wearing than men's lines. Besides, fake pockets there are always fake zippers and buckles too, random aesthetics that do nothing to aide in functionality.
Men's clothing also has more logical sizing. Women's clothing is complete bullshit, dress sizes are arbitrary and complicated, often meaning different things with different designers, you always need to check out the handy dandy size chart.
In the medieval times both men and women carried bags, but as pickpockets became more prevalent, internal pockets made more sense. Women were still left vulnerable, ready to be robbed.
How dare a woman mess with her beautiful silhouette by having stuff in her pocket bulging. Suffragettes had pockets but Hilary Clinton's suit does not, what does that say about our society?