Eager to continue my recent trend of firsts, I jumped at the chance to cover the Fashion POP show for Forget the Box. I began my POP experience yesterday by going to the Notman house, upon where after picking up the Forget the Box media pass, I saw Fred Penner hanging out on the front lawn drinking. There was something strange but incredibly awesome about watching children's icon Fred Penner just chilling and drinking a beer. I saw it as a sign that I was in for a good festival.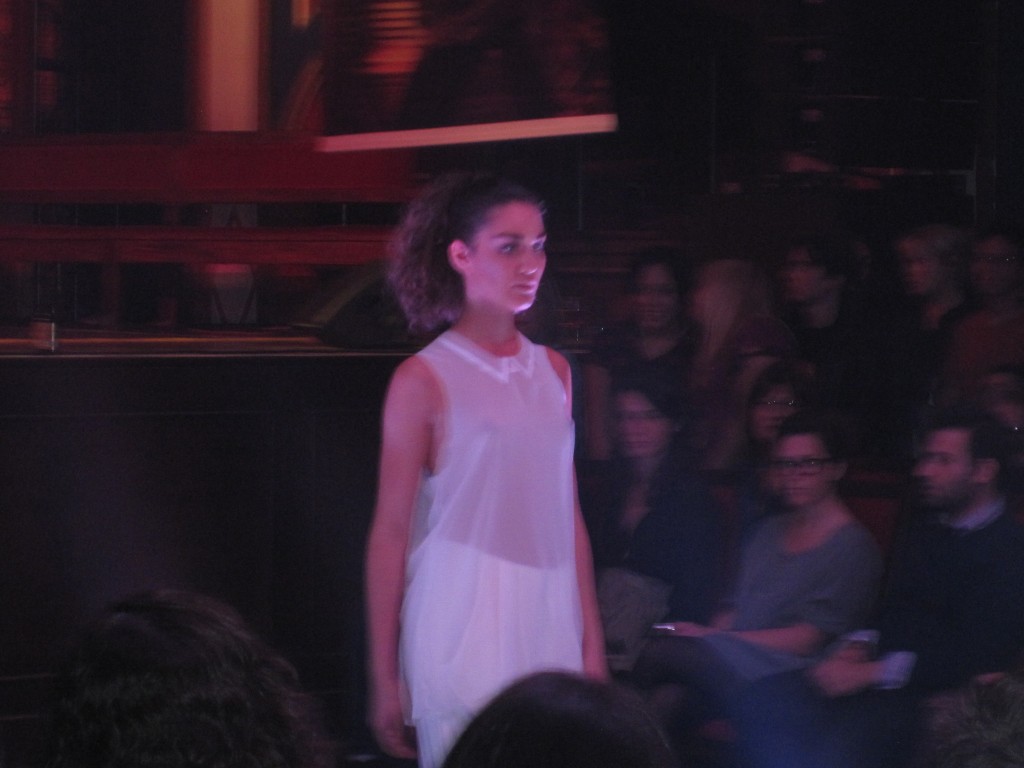 Afterward, I headed over to Parc, where the show was being held in the legendary Rialto theatre. While I admired the beauty of the place and wished that I could have come to see films there in the nineteen-twenties, the building quickly became a hot sweaty mess of fashionistas. Fighting a sea of perfectly coifed up-dos and pouty stares in stiletto heels, I managed to squeeze myself into an area near the front of the catwalk, ready to be impressed by some local Montreal design talent.
Unfortunately, I can't honestly say that I was blown away by the show. Fashion POP consists of six emerging designers who each present mini collections of six pieces each. What I found is that with each collection there were one or two pieces I liked, but on the whole most of the pieces were pretty uninspiring. My biggest problem with the show was the general lack of colour in each of the collections. An endless parade of sheer, loose fitting white and pale coloured tops and VERY tight shorts and skirts were all pretty on the fifteen year old (looking anyway) models but did nothing to inspire desire.
I don't want you think I was completely disappointed with the evening. Along with the awesome tunes being played by DJ Minnie, the pieces that I did like in my opinion should be immediately snatched up if you ever happen to see them in stores. Natasha Thomas created some absolutely beautiful trench coats that would absolutely perfect for fall and the line Market Market created some very interesting silhouettes on their dresses. While I may get a lot of crap for this from FTB readers I must admit there were some fur pieces as well that definitely brought out rare moments of cooing from me during the show.
The evening may not have been what I thought, but what I love about POP and Montreal in general is that there's never a lack of opportunities for new shows and new adventures. Have a great festival everyone!