I was walking with a friend of mine the other day who was in town for Osheaga. She turned to me at one point after a small group of polyester clad teenagers pranced by and said "I hate it when unfashionable people go to music festivals."
Now, that was a little harsh, she even realized it when I begged her to let me use this anonymous quote as the opening for this article, but I could understand what she meant.  People shouldn't necessarily choose to look crappy just because they're going to a music festival. Now, I'm not telling you to show up at Parc Jean Drapeau in an evening gown, but you don't have to look all drab and boring just because you need to be practical.
I personally didn't go to Osheaga- but if I'd  gone, I would have worn a pair of denim high waisted Levi's shorts (these fit like second skin and nothing ever falls out of their pockets… plus, they're hot) a sensible tank top (for the August in Montreal heat) with a low maintenance Kimono. Not only have Kimonos been making a huge comeback since the Oriental look quietly maneuvered  its way back into style, but they're also super practical for nights that aren't quite nippy enough for a full on jacket.
I also would have carried an over the shoulder tote or bag. Make sure it's over the shoulder, so that you have the option of wearing it across your body for extra security. Also, it's way easier to fish out your necessities from a messenger bag. Totes are expandable – you should bring one you don't care about getting ruined in the rain.
For shoes, I recommend Tom's loafers or boat shoes. Anything slip on and beat up, basically. Flip flops are a bad idea because they can break easily. Sandals, it depends. They're cute, yes, but the flimsier they are, the more likely they are to give up on you at the most inconvenient time. If you really want to wear sandals, opt for a more secure model- such as the type that have a thicker weaving, or are practically closed toe.
End of the summer tip for ladies: a friend of mine was wearing a pair of adorable sandals similar to what I had just described yesterday. She reported that they were recently purchased from Ardene of all places! It's not too late, ladies! Go give 'er  a look!
Hats are always welcome for a summer festival, after all, we must protect our visages from the ozone layer-less rays of Canadian sun, but I feel that the head accessory differs per person. These days, I have been down with turbans. The nice thing about turbans is that you can use the scarf when you're cold, or as a veil to protect you from the rain. When you're not using the scarf for your hair, shoulders, or as an umbrella, just double knot it to the strap of your messenger bag. It makes for a cute bag accessory, and won't take up any room in your tote.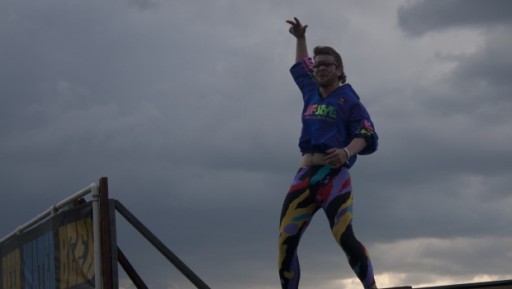 Gentlemen, I haven't forgotten about you. First of all, let's put my past preachings of patterns to use and go wild with the floral tanktops. If you choose not to wear a tanktop, muscle tee, wifebeater, whatever you choose to call them, wear an extremely thin material T-shirt, but I heavily advise against longer sleeved T's or even baseball shirts (though you guys look adorable with three quarter length sleeves).
If you're going to get cold, bring a cardigan or flannel shirt separately, because you might get hot again. And while I understand (and believe me, appreciate) that you can just take your tops off wherever you want when you feel uncomfortable, what are you going to do if your date gets cold? Give him/her your sweaty pit-stained baseball shirt because you weren't smart enough to bring a button down along? I think a man with a button down is extremely sexy, especially when it's plaid and he's offering it to me when I'm cold.
Men, you look adorable with hats on, do what you want to with that accessory. Just no visors, please. You're never going to get laid if you prance  around this world proudly wearing a visor.
Don't wear long jeans, ESPECIALLY not skinny jeans.  It's not the time or place. I encourage you all to wear a pair of demin shorts and roll up the pant legs. Ladies, this goes for you too. A summer festival and long jeans should not mix.
No shoes you would wear to the gym, that's just stupid. For you, I recommend beat up loafers/any shoe you can easily slip into as well. Also, don't bring your soccer ball thinking you're going to play soccer in the middle of the festival, don't bring your guitar to a music festival, it's not about you, but please, bring your own bag. Your girlfriend does not want to carry everything around for you all day.
Well mesdames et messieurs, I think that's all the wisdom I can pass down for this week. We have about a month left of summer, so use this guide for any other festivals you may be going to, or weekend trips to the beach, labour day… whatever the hell you're going to do to prepare yourself for the cold days that are coming to us.
Peace, love, and forever promoting loafers.