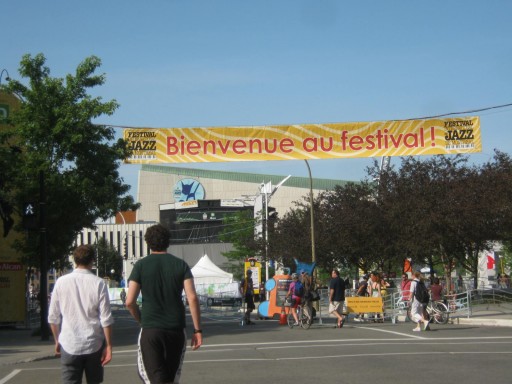 Another year, another Festival International de Jazz de Montreal experience. Thankfully this year I spent less time being detained by security for smuggling in contraband beer and more time listening to some really good tunes – but seriously, I have to ask this question every year: where is all the jazz?
Every year, I expect to hear some bebop or post-ragtime jazz – it is the type of jazz I play all the time in my head, the kind of jazz played on vinyl (with cracks, pops, imperfections and all) – but mostly I really appreciate music that makes me feel like I am marching in a New Orleans funeral procession. Is that so wrong?
I know that jazz aficionados, academia and enthusiasts think that all types of music can trace their historical origins back to jazz but, excuse me, when I think of jazz I usually think of Charlie "Bird" Parker or Thelonius Monk, and I also like to visualize 1920 Model-Ts moving in fast forward down black and white city streets captured on old footage.
If all modern music can trace its origin from jazz, what the hell doesn't fit into the category?
Well, on Monday at the Jazz fest I didn't even hear any smooth jazz, if you can believe it! I did see a hip hop dance troupe, a blues band and two swing marching bands. I suppose all these types of music are jazz derivatives – but I wouldn't call them "jazz" per se.
On Monday night, the crowd relaxed around the park that encompasses the perimeter of the "Loto Quebec Presents" stage. It is, hands down, one of the best stages, with a large open green area for people to sit and relax, (some even happily in the dancing vapour that spouts out from a concrete passage); it is a great place to just hang out with friends and cool off on a humid summer evening. Happy children danced in the park across from UQAM (Beware: children are attracted to spewing geysers, so when near the water vapours watch out for small wet children running around!).
Blues musicians were out to make a blue Monday night, Raoul and the Big Time took the Loto Quebec stage. Canadian actor Raoul Bhaneja's career in the blues scene is really starting to roll. He starts his set with an oi poloi chant with the crowd, asking the working audience to unite with a "you are my kind of people!" He then got the crowd to shout out loud with him. The band played an impressive set. Made up of legendary bass players, saxophone and drums, they kept the spectators on their feet with one lively performance.
Paying homage to Bad News Brown, the famous harmonica/hip hop artist from Little Burgundy, whose body was retrieved by the Lachine Canal, Raoul played some more heavy harmonica-based blues and got low, low down.
Most of these cool cat blues acts can be a downer. But not these guys, I enjoyed every moment of their ripe blues, tempered only by their extraordinary talent.
On the main (TD) stage, the Don Berner Sextet played. The sextet was composed of some spectacular horn players. The songs were mellow but lively and caused sporadic dancing in the crowd. It made me want to smoke a joint. They were a very enjoyable group of Edmonton-based professional musicians.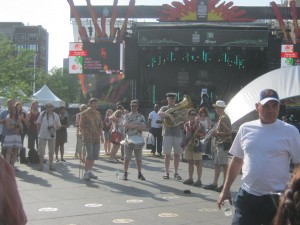 Swing Tonique Jazz band vs. Streetnix was pretty impressive as they moved toward each other to compete in a brass battle of the bands. And I got my marching orders, following them until they finally met for the final battle, "fight"… er, I mean brass off!
Afterwards, I saw the Argentinean power vocalist Alejandra Ribera, one of the most atypical singers you will ever hear. She has a very unique semi-baritone voice and is making her mark on the Canadian music scene by her eclectic choices of music; from Spanish classic rock to folk, her concerts are one strange roller coaster ride.
When you stroll with your cool jazz strut to the Festival International de Jazz de Montreal you will be inundated with advertisers: Rio Tinto Alcan, Bell and such. Each stage is well tagged with sponsorship logos. But look beyond the corporate shell and there is some really great music to listen to at its core, this year at the jazz fest.
Photos by Jerry Gabriel