First You Get The Sugar is a rock four piece made up of Alex Silver (Vocals, Guitar), Mick Mendelsohn (Vocals, Bass), Daniel Moscovitch (Drums), and Adam Kagan (Vocals Guitar). Their self-titled debut album was released last May chock-full of tunes bound to get you dancing. "Tell Your Mama" and "Disc Volante" got our feet tapping. First You Get The Sugar were recently selected for Canadian Music Week 2012. Forget The Box had the chance to interview FYGTS and talk about their inspiration, which Avenger they would be, what they are listening to, and who would survive the longest during the Zombie apocalypse.
Mick and Adam meet through Adam's former bandmate, who left to write movies with Seth Rogen and  Evan Goldberg. Adam met Dan through craigslist and then last came along Alex, who blew the guys away at his audition having learned the band's songs prior to joining the crew. To get to know them a little better, we asked them the tough questions: Which Avenger would you be? Daniel choose Iron Man for the gear, Mick would be the Hulk for the temper, and Alex would be Captain America, pre-steriods.
First You Get The Sugar derives its inspiration from varied sources. Mick is inspired "Mostly from other art, but if your antenna's up you can find inspiration anywhere, from a William Blake poem to a glass of coke."  Daniel in inspired by the "burning fire in my belly. I do what it tells me." Adam is inspired by women: "Almost all my songs are about women in some way or another. I am never ending-ly inspired by moments of deep beauty I've had with women. There are some moments that make all the bullshit and nonsense worthwhile." In terms of what drives their songs, the guys got right down to heart of things. "Feelings", said Daniel. " The relentless rhythm of the oompah", says Mick.
These days Adam is listening to Mike Snow and local acts. Alex's current musical obsessions are "the Alabama Shakes. This great young new band out of the States who kinda sound like CCR fronted by Janis Joplin. This band called Balthazar out of Belgium that do really cool funky pop-rock. Radiohead, Miike Snow, Spoon, and the Beastie Boys." As for Mick, he is listening to stand up comedy and podcasts: "Louis CK and Patton Oswalt. Comedians now are kinda like musicians in the 60s: the best ones are also the most popular and are also the ones pushing the envelope. For music, lots of homegrown stuff. My roommate's band Groundfood, Sarah MK, She's Got A Habit, Patrick Watson. Alabama Shakes too."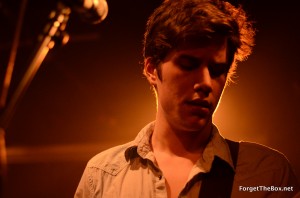 The guys all agree that Mick would survive the longest during a zombie apocalypse: " Mick. Definitely. He's got a full plan with maps. I once was talking about it jokingly with him, and he casually mentioned that he wanted to buy a 'kitana' sword. Yes, he said the word 'kitana'," says Adam. Daniel, however, is hopeful that Mitch would help them all come out alive.
Up next for FYGTS is NXNE in June with the Converse showcase in Toronto. Adam is "excited beyond belief for this festival. Hopefully there are many more festivals and shows with these boys on the horizon. Like sharks and relationships (cr. woody allen) – we just need to keep moving forward."