I hold my fist in the air to represent resistance, to show that together we are stronger, hands ready to fight back against oppression and hate. A raised, clenched fist, is a symbol of support and solidarity with others. It expresses power, strength, unity, and defiance.
Fists for freedom! Revolution is now, things must change with a heavy hand. The fist salute dates back to ancient Assyria. It was then and still is a symbol of resistance in the face of violence.
It was used widely in the Black Panther movement, Anarchist and Communist groups, labor unions, civil rights activists, leftists, and other subversive anti-establishment groups that challenge the status quo.
Food Not Bombs uses a purple fist with a carrot in it as their logo. Protesters against Trump's order to ban immigrants from Muslim countries have also used the fist as a symbol of HELL NO!
Even though the fist is a popular visual signifier of defiance and solidarity, Angela Davis did not throw up her fist at the Women's March on Washington DC as she did famously during the Black Panther movement of the 60s. She knew that women were holding signs with words that were to heavy to carry the real weight: Black Lives Matter.
Donald Trump decided to throw up his disgusting tiny little limp fist during his inauguration speech and I almost puked. This world appropriates everything, the same thing happened with the swastika.
The fist in the air is meant to be a genuine political statement and not an emogii, not something trivial. This is not a peace sign or smiley face, it is the symbol of a revolt.
American runners John Carlos and Tommy Smith (both people of color) raised their fists in an iconic stance during the medal ceremony at the 1968 Olympic games. It was a poignant salute to civil rights and a bold stance against racism in sports and beyond.
The co-opting of the raised fist as a patriotic symbol is ridiculous. It is ironic when politicians use it, since it is really about fighting white men in suits. Bernie Sanders raised his fist, Gloria Steinem raised hers, so many white people trying to be progressive and intersectional are actually just appropriating and acting like fucking saviors.
We need to stand in solidarity but understand we are different. We have not suffered like the people we raise our fist too. Our struggle must be to dismantle white supremacy and band together, organize and resist. We need to lift up those who have been discriminated against. Communicate resistance now!
The raised fist does not mean aggression or dominance. It is the power of the people united. The manifestation of physical strength.
I carry a rubber fist with me at Pride parades and protests because it is controversial. The fist gets more attention than the flowers in my hair or the glitter on my lips. A giant flopping dildo fist. It's heavy. I feel like I was going to dislocate my pinky finger just flailing it around. It is an extension of my own proud and filthy fist of fury.
During the Pride parade I always extend the fist so people can fist bump it, which is always a crowd pleaser, especially with little kids, they have no idea. I love when people react to it, like holy shit is that a fist? Yes, it is. Her name is Ivana Punishu.
I bought the fist on Valentine's day with a good friend of mine. It was in the clearance bin because the package had been cracked, score! We took it home and put fake tattoos all over it. Years later it is still the funniest and most shocking thing I own. I love bringing it out in public as a conversation starter.
Fisting as a sex act is an oddity of the porn world that most of us have rarely experienced in real life. Not all lesbians go elbow deep in each other as one might imagine.
There are safe ways to practice the art of fisting which involve stretching and relaxing, there are certain positions the hand must be in, and definitely a lot of lubrication. I have only done that once, and it was crazy. Not anything I would want to do again to be honest with you.
My gynecologist was definitely perplexed. So I carry the rubber fist to symbolize not only the freedom fist of solidarity but for the disenfranchised and used porn stars, the people who do what they want in bed and explore the depths of each others bodies, the ones who push their own limits and challenge what society accepts as normal, and all that is taboo.
Fisting is about love and trust, a deep bond not to be taken lightly.
Drawing hands is so hard. The intricate bends and puffy parts, the scars and wrinkles, the perfect lighting, strange contortions and artist license. In art a fist represents so much. In life you can bump fists, a popular greeting, or you can throw your fist in the air in protest. Fighters and rioters , olympians and bros, and people at rap shows all throw the fist in the air. Punching at the invisible barbed wire fence over head, reaching toward a god that does not exist. Thrusting through the cold air overhead the fist stands above proudly, regal, and beautiful.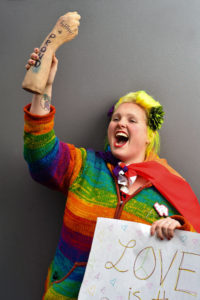 Fists of fury wild eyed wonderful. Bare knuckle bruiser, fighting, scrapping, pounding, heavy handed hard hitter, smack, and pummel into smithereens. A boxer with fists taped in puffy red gloves, protective mits to ease the blow, lessen the chance of breaking a hand or a face, cracking a skull, causing death or even worse- disgrace.
I want my fists to come in peace. Kind hands, hands reaching out with food and love, hands that caress smooth skin on warm summer sundress afternoons, they pet cats and scratch dogs behind the ear.
Callused, covered in scales, double jointed, strange hands, big hands, pleasure tentacles, appendages that really get the job done, hands that craft things, hands that make art, and love. My hands hold other hands, clenching at flowers and carrots, reaching up to the sky with honor and dignity.
Throw your fist in the air because you care. It matters.