Remember the time I was almost arrested for sharing free food with my friends?
I do. It was a cold, rainy May Day and we showed up to Lafayette Square (in Buffalo NY) as usual, well maybe we were 10 minutes late, and then as soon as I got out of the car and hugged my one of the people waiting in line, BOOM, out comes an officer of the law to tell me I needed to stop.
STOP? Stop serving my community while you sit there serving a paycheck? STOP? Stop providing necessary organic vegetables to those too poor to afford them, to those living in a food desert, to those who are HUNGRY RIGHT NOW, to those waiting in the rain for a meal (believe me if they didn't need it they wouldn't be there).
I could not serve my friends in the park. Our picnic was trampled by someone paid with my tax dollars. My heart was broken.
Buffalo Food Not Bombs serves every Monday and Saturday and has for over 20 years, no matter rain, snow, or sunshine we are out there with our friends, our people, our community. Some things are maybe not worth getting arrested for, this is not one of those things. I will do anything in my power to keep our free vegan picnic going forever.
Volunteering has given my life meaning, I have made some incredible friends, and when I walk down the street people wave to me, people I serve, people I love dearly, people who need nourishment. Food Not Bombs is a worldwide movement against hunger and food waste, we got this. 
They said it was permits we needed- well I went to the permit office like a bat out of hell immediately after and guess what they told me? NO PERMITS ARE NECESSARY IF THE FOOD IS FREE! How about them (free) apples?
We only serve vegetables so the laws about meat temperature do not apply to us. We only give away things for free that were donated so no taxes apply to us. This food is a gift and there is no gain to share unsafe food.
We share the food immediately after it is cooked in a clean and inspected kitchen with gloves and clean containers and cutlery. We have filed paperwork with the Health Department to make sure we are legit on that account, but both of the kitchens we cook in have already been on the books and inspected, so why? Why are we being hassled now?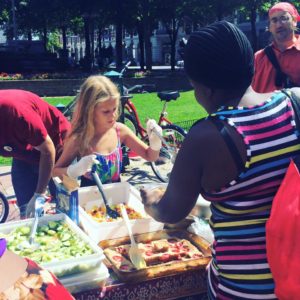 One thought is that May Day is a day that activists tend to lash out against "the man". Perhaps we were a threat? Giving out free food to serve the revolution is dangerous. Making sure there are no rumbling tummies is a travesty.
The Police have always had a watchful eye on us, Feed them? Ha, make them starve! Not on my watch, bro. If I have an abundance I will share it by any means necessary.
Another theory is that there is also a new "luxury" hotel right across from Lafayette Square, perhaps they don't want tourists to see our homeless population? Gentrification will not stand, this is a public park, and our people will continue to enjoy it. I have heard of people getting arrested for serving free food in places like Florida, but there are no standing laws that apply to us here in Buffalo.
That day I gave my phone number to a few regulars, the next day an elderly woman hit me up. She depended on our free produce. Her sister is also vegan, they cannot afford that life without our support. I hooked her up with produce and gave her a ride home.
It turns out that she used to be an art teacher, she dedicated her life to making children see beauty. She told me not to swear (I am a potty mouth fo sho) and also said that she went to the same church as one of the officers. I hope she makes her cry on Sunday.
This woman is so sweet, thank you again Sara, for reminding me why we do this. I made a friend for life because I reached out a hand full of food and she needed it. This sweet woman told me that I was doing God's work. Well, I am an atheist, but I respect that because I knew religion was very important to her. I will NEVER STOP! Never.
We made asparagus with garlic and olive oil, mixed veggies, green salad, apple crisp, banana cranberry bread, mixed sweet and white potatoes, roasted caramelized cabbage, cantelope, fresh bread and bagels, fruit smoothies, iced sweet tea, and organic produce to share. Thankfully we were able to serve our meal at the University of Buffalo in solidarity with Muslim students at a hate speech by Robert Spencer (anti-jihad alt right nut job) that was sponsored by the on campus white supremacist student group. So it didn't go to waste. We found an alternate place to serve for that one day, we will be back in our regular place ASAP.
The community support has been phenomenal. Many have reached out and will be volunteering with us. This Saturday's share will be incredible. I cannot wait to see what comes of this.
Thank you for the free publicity. We will have an uproar from our beautiful neighbors to stand up for those who need a meal. Shame on you for trying to shut us down! If you had a problem with us, tell us and we will fix it, don't shut us down when people are depending on us to eat that day!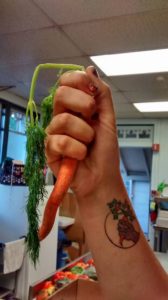 The cops were always "nice" to us in the past. A week before there was a young, black, female officer that was "helping" us. This week she would not look me in the eye as we were forced to shut down. She was a plant, she was used because we would accept her presence a little easier. Officer Gentrification looked a lot like the cop from Terminator 2. I am not intimidated or impressed. Their hungry tummies are on your conscience sir!
You did not serve or protect anyone on this day. I had to tell a homeless person of color "Do not take that bread." I had to tell an elderly woman whose hand was shaking "Do not take those apples." I had to tell a woman with small children "I cannot give you that food."
Food is necessary for survival, it is a right and not a privilege! I should have stood up right then and there, but I didn't, and I am disappointed in myself. I thought about the people I was with, other volunteers, the good ones, and didn't want them to get hurt.
My community is my life. I care about the people we serve as if they were my family because all humans are my family! This is a cause worth getting arrested for. If we are told to stop once more, the next meal is a protest and everyone is invited.