I remember a time when my mom used to make this extremely tasty chicken casserole with broccoli, chicken breast, cream of mushroom and sour cream. We loved the flavours and were completely oblivious to how these ingredients came to be on our plates. We both read Quantum Wellness by Kathy Freston around the same time, made the connection, and decided we did not want to participate in the violence towards animals, nor did we want to consume corpses or animal secretions any longer.
Changing our diets to appease our conscience did not mean giving up the pleasant flavours, however. Even for this dish, which included many animal products, I got to work in Amore's Kitchen and did what I do best: I successfully VEGANIZED the recipe!
I've said it before: it's all about the spices. For this dish, I first made a list of the spices I associated with chicken. This is how I came up with the marinade. The tofu or cannellini beans don't have much of a taste on their own; they simply act like sponges to absorb any and all the flavours we desire, so really anything is possible.
The grated bread crumbs in this recipe also add to that familiar baked or fried chicken taste – remember Shake & Bake? I chose to make the bread crumbs myself so that I could control what type of bread, and all other ingredients, used. I try to avoid white flour and table salt because they are so refined. I also don't need preservatives or additives. So easy to make, I share my recipe for the bread crumbs with you below. You can make a big batch and store it in an airtight container in your cupboard for weeks.
I know many people feel they just don't have time to cook anymore. With full-time jobs, household chores, children, spouses and the multitude of day-to-day activities, finding the time to prepare a meal from scratch can be really challenging! Preparing a casserole like this on the weekend is really convenient because the leftovers can form part of another meal. Preparing 2 casserole-type dishes, and maybe a soup or stew, on the weekend can be all you need so that you have a basis for meals during the week. Toss up a quick salad to accompany the dish, and there you go! We can only do our best, depending on what our schedule allows, however, we must keep in mind that the more time we invest in preparing healthy meals, the less time we will spend in the hospital later. Healthy eating is clearly a worthwhile investment!
Enjoy, in joy and in health!
"You are as important to your health as it is to you." ~Terri Guillemets
"For The Love Of Chickens" Casserole
Ingredients:
1 package organic firm tofu, chopped into large chunks OR 2 cups cannellini beans, cooked
1 head of broccoli, chopped
1 head of cauliflower, chopped
1 celery stalk, chopped
3 tablespoons grapeseed oil
2 cloves of garlic, minced
2 cups fresh Italian parsley, chopped
2 cups Cashew-Creamy Mushroom Sauce (recipe follows)
1 ½ cups bread crumbs (recipe follows)
Sea salt and freshly ground black pepper to taste
-Ingredients for (tofu or cannellini beans) marinade (all the following spices are dried, unless otherwise specified)
1 ½ teaspoons sea salt
½ teaspoon savory
½ teaspoon rosemary
1 teaspoon basil
½ teaspoon mustard powder
½ teaspoon paprika
½ teaspoon cumin
1 teaspoon thyme
½ teaspoon black pepper
¼ teaspoon cayenne
2 tablespoons olive oil
1-2 cloves of garlic, crushed or minced
¼ cup fresh parsley, chopped
Method:
1. Marinate tofu or cannellini beans overnight or for several hours by placing all marinade ingredients and tofu chunks or beans in a glass container and refrigerate.
2. Prepare bread crumbs and Cashew-Creamy Mushroom Sauce (recipes below).
3. In a large saucepan, heat 2 tablespoons of grapeseed oil and minced garlic for 3-4 minutes over medium heat. Add chopped broccoli and cauliflower. Add sea salt (about ½ teaspoon) and sauté for about 5-6 minutes or until slightly soft.
4. Pour 1 cup each of mushroom sauce, bread crumbs and parsley into saucepan over vegetables. Continue cooking for 2 more minutes.
5. Remove from heat and place into a large glass casserole dish.
6. Using the same saucepan, heat 1 tablespoon grapeseed oil and add marinated tofu or beans and chopped celery. Sauté for 10 minutes, stirring constantly. Pour 1 cup of mushroom sauce and ½ cup breadcrumbs over mixture and continue cooking for 5 more minutes, stirring constantly.
7. The sauce and bread crumbs will stick to the bottom of the pan. When you pour tofu or bean mixture over the vegetables in the casserole dish, scrape the bottom of the pan and sprinkle roasted bread crumbs and sauce over casserole. This will add lots of flavor to the casserole. Mix together vegetables and tofu or beans in casserole dish.
8. Garnish with more chopped fresh parsley and heat in the oven if necessary. Serve warm.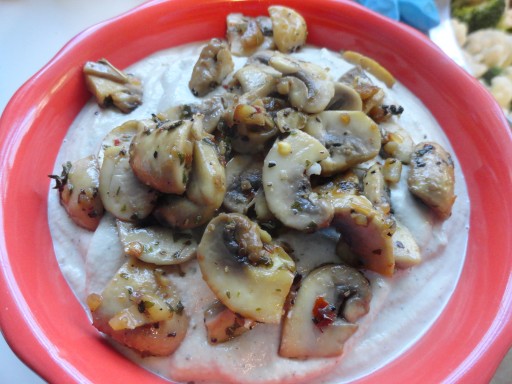 Cashew-Creamy Mushroom Sauce
Ingredients:
3 cups mushrooms, chopped
½ teaspoon oregano
½ teaspoon unsalted steak spice
1 teaspoon sea salt
½ teaspoon chili flakes
2 tablespoons grapeseed oil
½ cup raw cashews, soaked for 2 hours in purified water, drained
1 ¼ cups purified water
1 tablespoon miso (yellow or white)
2 cloves of garlic, minced
2 tablespoons tahini
2 tablespoons olive oil
2 tablespoons freshly squeezed lemon juice
¼ cup nutritional yeast
¼ cup hemp seeds
½ teaspoon black pepper
Method:
1. Soak cashews in water for 2 hours. Drain and set aside.
2. In a saucepan, heat grapeseed oil and 1 minced garlic for 3-4 minutes on medium heat. Add mushrooms, oregano, ½ teaspoon sea salt, steak spice and chili flakes. Sauté for 5-8 minutes or until mushrooms are soft. Set aside and allow to cool.
3. In a blender, combine drained cashews, water, miso, tahini, olive oil, lemon juice, nutritional yeast, hemp, pepper and cooled mushrooms. Keep a few mushrooms on the side to add to the sauce whole after blending, if desired. Blend until soft and creamy. Mix in remaining mushrooms.
4. This is a versatile sauce which can be used for casseroles, pasta, quinoa, rice or veggie dishes.
Homemade Bread Crumbs
Ingredients:
4-5 slices of bread of your choice, dried and hardened (takes about 2 days)
1 teaspoon oregano
1 teaspoon sea salt
1 teaspoon garlic powder
Method:
1. Choose bread that you would like to grate. Break it into pieces and place on a cooking sheet. Leave it in the oven for at least 2 days to dry out and harden. Do not turn on the oven.
2. Once bread is completely dry and hard, put it in a blender or food processor and grate.
3. Pour into large bowl and add oregano, salt and garlic powder.
4. Use as desired.
Follow Maria on Twitter and Facebook.