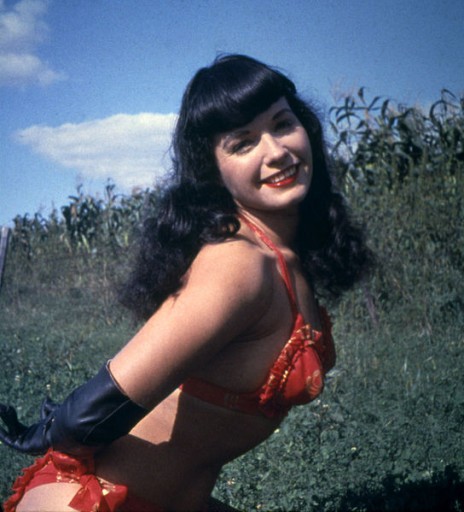 This week I'd like to pay homage to some of the women who paved the way for the contemporary incarnation of burlesque. Had it not been for the creativity and courage of these sassy lasses, I wouldn't be able to get up there and shake my stuff on stage.
As many of my avid readers are aware of, I'm a member of a fabulous burlesque troupe known as Glam Gam. When I first started performing with my Glamily, I was relatively unaware of the traditions of burlesque, and how it shaped up to become a popular arena for showcasing sexuality, satire and silliness.
Speaking of which, here's my act of shameless self-promotion for our latest Glam Gam extravaganza, a murder mystery entitled "If Looks Can Kill… They Will". It runs tonight and tomorrow night at the famed Café Cleopatre, right in the heart of Montreal's former red light district. It's truly going to be a killer night of titillation, titters, and most importantly of all, titties! And maybe a few cocks thrown in for good measure.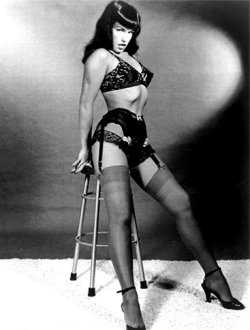 Bettie Page
Bettie Page's trademark look of jet black hair and crimson lips is nothing short of pin-up perfection. Though she only worked as a model for seven years during the 50's, her fresh face and gorgeous curves graced everything from calendars to playing cards.
While most well known for her Playboy contributions and fetish and bondage modeling, Page was also an accomplished dancer and performer. Her trademark look and charismatic personality were marked by the alluring contradictions of nice and naughty, sugar and spice. She could exemplify the girl next door at one moment, then get tied up and spanked into submission in the next.
She retired from modeling at the height of her popularity and spent some time as a Christian missionary. Sadly, later in her life she nearly faded into obscurity after suffering a nervous breakdown on account of paranoid schizophrenia and spent some time in an asylum following a violent altercation with her landlord. Recent biopic and documentary films have led to a new-found appreciation of the Queen of the Pin-Ups.
Sally Rand
Sally Rand rose to prominence as a burlesque performer in the mid 1930's, and popularized two of the genre's most enduring numbers: the ostrich feather fan dance and the bubble dance. Both dances rely on the illusion of exposure by limiting the parts of the body shown to the audience while revealing just enough at the pinnacle moments. Rand continued to perform her famous fan dance into her 70s!
Most famous for her appearance at the 1933 Chicago World's Fair and her Naked Ranch at San Francisco's Golden Gate International Exhibition, Rand was arrested many times for her obscene performances and stunts that included riding a horse down the streets of Chicago while seemingly nude.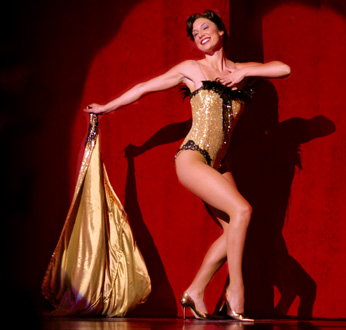 Gypsy Rose Lee
By injecting humour, class and wit into striptease, Gypsy Rose Lee changed the art forever. Her sassy performances even prompted writer H.L. Mencken to coin the classier term "ecdysiast" from the Ancient Greek term for "to take off or to strip off".
Lee performed with her sisters on the Vaudeville circuit, although her sister June's talents outshone her own attempts at singing and dancing. When she realized she could earn a living in burlesque, she developed a signature, casual style after a shoulder strap gave way on one of her gowns during a performance, a trick she incorporated into her routines.
She was as famous for her sharp wit as she was for her undressing by putting the "tease" in striptease. She was also frequently arrested for indecency during raids on New York's famed Minsky's Burlesque club, where she performed for four years in its heyday. Her 1957 memoir became an instant best-seller and was adapted into the stage musical and film "Gypsy". In her later years she started in a number of moderately successful films and hosted a morning television talk show in San Francisco.