English songsmith Frank Turner landed in Metropolis recently as part of his North America Canada tour. With him for the ride were his band the Sleeping Souls and support acts Into It Over It and Andrew Jackson Jihad. Turners shows tend to get a lot of attention as word of energetic, heart-felt performances grew after his previous tours. This night looked to be no exception, the crowd was large the mood was good and our vocal chords were severely under warmed-up.
Into It Over It is a postpunk act. His release 52 weeks saw him write a song a week for one year and publish the material. It was a nice concept and some really good songs came from it. On this night his performance was pretty cheeky. Fun music, bitta chitter chatter and talk of his first "proper" album.
Andrew Jackson Jihad are a two piece from Phoenix, Arizona consisting of  Sean on guitar and Ben on double bass. It was an interesting sound, not what I was expecting, but definitely one that got the audience's attention. It seemed an unusual choice to have between the opener and Frank Turner but it kept the atmosphere tight and the ear twisted as if by a malicious school teacher, punishing you to listen to decent music.
Frank and the Sleeping Souls arrived on stage to the whooping and spasmatic hand slapping of an eager audience. They then proceeded to play a pretty chunky set of well over 20 tracks including a pretty varied selection from his four albums and EPs. Turner has a good ear for what his audience likes so favourites like Love Ire Song, Ballad of Me and My Friends and Photosythesis were present along with newer songs from his last album England Keep My Bones.
The set was well paced and the energy never lagged or sagged. Slower songs were followed by upbeat songs and the crowd sang regardless. The audience belted along as only people who sing these songs every day can. Early on in the set Turner also treated the crowd to a new song, Polaroid Picture. Glory Hallelujah was the peak for crowd energy. This atheist gospel anthem is pretty refreshing stuff. There's something very liberating about singing along with so many others "There never was no God" and looking around a room full of smiling united people.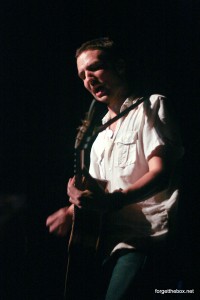 The set finished with a cover of Queen's Somebody to Love. A ballsy choice but it paid off bigstyle. The crowd gobbled it up like pigeons scrambling for breadcrumbs. It was a great cover with Frank and The Sleeping Souls doing a la Freddie justice.
Once they finished the audience was pumped and the buzz in the air was almost visible, we screamed and shouted for an encore, and well… His three song farewell was started with a short french song that Turner told us he had written. It was a sweet sentiment to a Quebec crowd who appreciated it. This was followed by Ballad of Me and My Friends and Photosythesis, the fan favourite sing along.
Frank and Co. bowed said their thanks and humbly left the stage leaving a satisfied and moved audience. Turners shows are impressive and involving which mirror the qualities of his records. It is his honest lyrics and sweet music which keep his audience growing. It is his amazing live shows and unforgettable energy which keep them coming back.
Photos by: James Hoban
For more photos check out our FB page 🙂