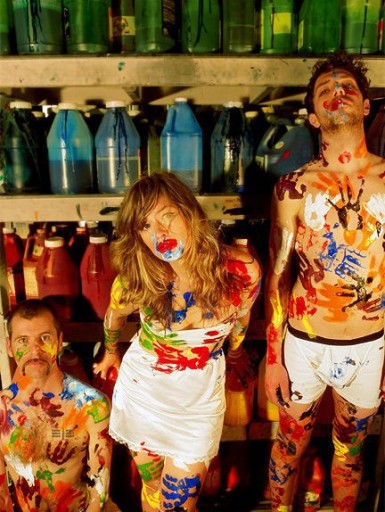 Holla! We're at it again. Damn, you all must love this whole free tickets, awesome shows business we've got going! So what's up this time? We want you to go see Ruby Jean and the Thoughtful Bees this Saturday at Divan Orange.
Imagine this: you're standing (somewhat wasted) in a field in the darkness of the night, with a giant stage leering over you, and all of sudden this huge wave of mist and fog pours out, engulfing everything around you … then this beautiful blonde haired chick appears and pink stagelight flames into the mist. Oh, and she goes for it, with serious indie rock and electronic rhythms swaying below her voice. It was the first time I'd ever heard anything like this sound.
While my memory may be a bit shot, the first time I ever saw Ruby Jean and the Thoughtful Bees was in 2009 at Evolve music festival, and it was completely, utterly all those words people use to say amazing with; it's unforgettable dark pop.
Second time? The Marquee/the Paragon/whateverthefuckit'snameisnow/it's closed.
Again, unforgettable.
Enough about my experience, here's a little bit about the band…
The Haligonian trio's vocalist Rebehak Higgs has been in town a number of times solo (and I've seen her a number of times solo)… but she's at her best when playing with her band mates Jason Vautor and Nathan Doucet. Hmm, actually this depends on your mood.
So what's up with this? Well, It's not often you get the indie-dance-electro genre pulled delightfully from its hinges and melted on your body. This isn't your typical late-night, loft DJ friends spinning tunes to all the kids whacked out of their mind (though they would work well in that scenario too). This is practiced, precise and alarmingly fun. Yet dark. Dark Pop. Seriously, they're bound to (and always do) leave a lasting impression that's better than that really drunk photo of your friend eating "ice cream" last Saturday night.
Yup, it's going to be better than that.
Ruby Jean and the Thoughtful Bees – You Don't Miss Me (produced, mixed & mastered by Colin Crowell) by colincrowell
…. ding.ding.ding (insert winning bell from the Price is Right).
Ticket time!
To win a free pair of tickets to see Ruby Jean and the Thoughtful Bees this Saturday go to our facebook page and tell us what we should name this precious monster (originally from chocolatecoverbraincells.com).
Ruby Jean and the Thoughtful Bees, Sean Nicholas Savage, Hexes&Ohs, and Jenocide will all be playing at Divan Orange this Saturday, July 2. $10 at the Door, which opens at 8:30pm.
Score tickets early via indiemontreal.ca …. $8 in advanced or 4-for-$29.