Following my latest article on volunteering, I must now write about my favorite volunteer experience so far which is at the Fresh Paint Gallery!
The Fresh Paint Gallery is an alternative and self-financed project managed by the Under Pressure festival's team of volunteers. The first gallery opened up in 2011 and was located in an old building on Ste-Catherine which used to host French newspaper La Patrie. The gallery was open in that location for quite a few months, getting as much as 3000 visitors monthly. The gallery is now upstairs at 221 Ste-Catherine E. at the corner of Ste-Elisabeth!
What is this gallery, you wonder? The purpose is to fill in empty spaces along Ste-Catherine and give a chance to artists from Montreal and beyond to fill it up with their art. From the moment you walk up the stairs, you are welcomed by art by Adida Fallen Angel on one side and by Delphine Delas on the other side. The art changes regularly in a very organic fashion as in it will not necessarily change all at once but one room or one wall at a time. It makes it well worth checking out regularly. You might even witness artists in the middle of taking down or putting up some art. The challenge for the artists is really to use the space fully, not just hang a painting on the wall. Most of the exhibits are inspired by graffiti and the street art movement.
The gallery runs by donation, there is a minimum $2 per person required. If you give $5, you will get a CD or a magazine and by giving $10, you will get a poster. There's also a shop where you can get some prints. Also available is awesome Montreal streetwear with merchandise from the Under Pressure Festival as well as from Artcore.
The gallery also hosts conferences on a regular basis. The first one happened during the Under Pressure festival and was about women in Hip Hop culture. The next conference is this Friday, October 18th at 6 p.m. featuring artists such as Emmanuel Laflamme and Shawn Davis, who will discuss learning art in the streets versus art school education. More info here.
Another upcoming event at Fresh Paint Gallery is Beaux Dégâts, an art mashup evening. It started at the old location but is now hosted by Foufounes Electriques due to lack of space at the new location.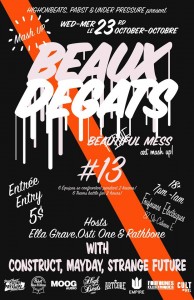 Six teams of two to five artists have two hours to paint a canvas after being given a theme and some restrictions. At the end, the public votes by putting their empty beer can in a garbage in front of their favorite piece. The winning team gets to destroy the others' work! Wednesday, October 23rd will be the 13th edition. Don't worry if you can't make it this time, the next one will be Wednesday, November 27th. The event starts at 7 p.m. and there is a $5 entrance fee.
Go check out the gallery whenever you have some free time for some awesome art! If you are interested in volunteering, check out the recruitment page on their website and get in touch with the team or just come say hi!
Fresh Paint Gallery is open from Wednesday to Sunday, 12 p.m. to 9 p.m.