On the corner of St-Hubert and Boulevard Rosemont in Montreal rests the important gallery Art Mûr which for the past eight years has taken it upon itself to exhibit one of the most significant events in Canada's Fine Arts students' lives. This elegant three story space has housed some of the most innovative, extraordinarily creative works the Canadian young artists have ever produced, and this year the gallery has outdone itself. 42 students from 11 universities have participated on the recommendation of their teachers who handpicked the artists based on their ability and vision, and the result is beguiling.
In the past I have been disappointed by student exhibition, especially by final year extravaganzas full of outrageously self-aggrandizing, unfathomable junk veiled under the so called conceptual model, aimed mainly to shock and provoke rather than make the viewer feel and think. However this exhibition manages to do away with the self-obsessed ordinary and gets down to the meat of the notion that is Art.
Considering the variety in style, medium and concepts which separate these artists regionally and in most cases culturally, the organizers have managed to set up the exhibition in a manner that the pieces complement one another, yet they do not distract the viewer, nor do they get in the way of each others message. Each artist in this exhibition expresses his or her point perfectly and without hindrance, and what is more astonishing is the fact that these pieces are sellable and indeed many have already been adorned with red dots next to their descriptions.
Even though the exhibition is a triumph as a whole and all artists deserve much praise, in my humble opinion a few stand out above the rest as magnificent examples, and they are: Gabriel Bribeau representing Concordia University; Patrick Cull from York; Alexis Lepage representing UQÀM; Rob Nicholls from Waterloo; Marianne Pon-Layus from UQÀM; Sherrie Rennie from Manitoba; and Luke Siemens from York.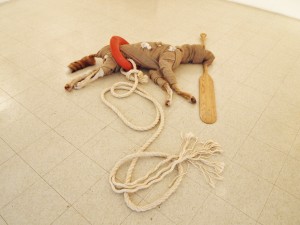 Concordia's very own Gabriel Bribeau has done an exceptional job with his sculptures which are thought provoking with hints of despairing folly to them, and I do say this with great admiration for the pieces. "Capitaline" is a fox wrapped up in bandages with a paddle on his head, wearing a red safety ring with a rope attached, forcing the viewers to question whether they can or even would want to save the poor drowning creature, or alas the time for action has passed and the fox is but a corpse. In a similar manner Gabriel's "Trouble in the Garden of Eden" at first sight is an ordinary hose pipe placed on an ornate wall hanging reminding one of old-fashioned fire safety equipment that once existed in high-rises, however on closer inspection one becomes aware of the snake head at the end of the pipe. Trouble in the Garden of Eden disguised as a way out? Or a solution to that ever tantalizing temptation we seem to be plagued with ever more?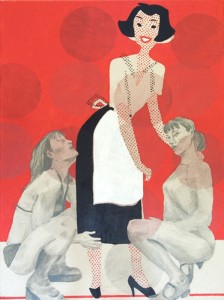 Marianne Pon-Layus from Université du Québec à Montréal manages to bring feminism to painting in a very effective way. Her paintings include mainly figures of women in various out of ordinary scenarios, making the viewer question the value society imposes on them.  In "Erreur d'impression I" two modern women are at the feet of a cartoon like housewife who could be from the 1930s cleaning product commercial, and the two modern women seem to be at her disposal and helpless, enslaved by her image. The housewife figure is not being blamed here, because she is fictional, she is a cartoon drawn by an advertising firm, a product of some executive's view as to what makes a good wife. Whomever might you blame, the message is clear, the stereotype we project onto women do not cease with our demise, it will have a lasting effect on future generation no matter how hard they try to escape it.
Another UQÀM artist deserving of commendation is Alexis Lepage who has taken an interest in sculptural form. He has introduced a very contemporary idea into an old technique, and the result is just remarkable. I caught up with the artist himself and he explained his fascination with exploring the possibilities of sculpture as a medium, and how forms can be used in juxtaposition to essentially balance each other. His "Lance-amarre" which is a basketball wrapped around with a rope which then extends off is a wonderfully entertaining concept as well as being sculpturally contemporary. Alexis' "Globe" plays with negative space, a globe stand resembling a basketball ring missing the very thing that would make it the object we perceive it should be. Our perception of form and sculpture is further put into question by his "Cerf-volant" which is a fishing rode at the end of which are paper airplanes made from maps, a philosophical approach to the modern by Alexis Lepage.
Young Canadian artists in this exhibition have achieved what many deemed impossible, they have produced works that are intelligent and emotional in scope, and are easily accessible to the public. The teachers and staff who handpicked these students have shown themselves to be aware of the changes happening in the scene and have catered an exhibition worthy of the discerning viewers.
Fresh Paint / New Construction will be on at Art Mûr 5826 St-Hubert Montréal until September 2012