When logic and proportion
Have fallen softly dead
And the White Knight is talking backwards
And the Red Queen's "off with her head!"
Remember what the Doormouse said:
"Feed your head, feed your head." Jefferson Airplane
Last Friday, I fell down the rabbit hole. Standing up, I brushed myself off and looked around. "Holy shit, holy shit, this is awesome!" Pure glee. In front of me, two giant stages had been erected and a crowd of hundreds grooved in unison to Broken Social Scene. I had fallen into the psychedelic landscape of Osheaga.
Let it be known that this was my first time at Osheaga, this being my first year living in Montreal. For purely monetary reasons, I wasn't planning on going (you may recall last week's article "Keeping cool on a (penniless) budget"…) but then the Champion of Fun [i.e. Shit Shows], Chris Zacchia, called me and informed me I was coming with him. Um, yeah, no problem. We make plans to meet up early Friday afternoon for a few drinks to kick things off. Obviously. Also obviously: I arrive at 3, ring the bell, knock a few times and wait a couple minutes until a blurry-eyed Zacchia opens the door and greets me with a seriously stunned stare.
"Just getting up?"
Grunt.
"Fun night?"
Double grunt.
"Cool, have a mimosa. Have some Tylenol. We're going to fucking Osheaga!!!"
Impressively, less than ten minutes later Zacchia was sitting beside me, completely coherent and drinking champagne and OJ. I'm blaming the mimosas. They initiated the descent into rabbit territory.
Many mimosas—rye, wine and a red bull—later, we're at Parc Jean Drapeau just in time to have missed most of Broken Social Scene. Nice one. But always happy to play April O'Neil, I take advantage of the five minutes of audibility between sets to whip out my ancient voice recorder and ask very pertinent questions to very drunk people.
"How was Broken Social Scene??"
"I LOOOVE THEEEEM, SOOOOO GOOOOOOOD."
"Who are you off to see next?"
"YEAAAAAAH!!"
Success.

After this, Bran Van 3000 takes the stage and less than impresses me. I mean, there was some awesome tambourine shaking and some danceable tunes, but I left myself a note on my voice recorder implying that Bran Van was not exactly doing it for me. Drink break! Plopping ourselves down near a couple stretched out on collapsed cardboard boxes, we sip vodka from plastic cups and wordlessly survey the droves of festival goers.
Thirty seconds later a guy comes over to buy a few smokes from Zacchia and, always an opportunist, I dig out my trusty voice recorder. Time to get serious. Smoothing my trademark yellow jumpsuit, I pull up my white boots, tassel my mop of auburn hair and prepare myself to conduct a proper interview. Michael is his name, and he's on a motorcycle trip across Canada. Beginning in his hometown of Turner Valley, Alberta, he's traveled all throughout the east coast (quote: "Halifax is awesome!") and is heading to BC to tour the west coast until the end of August. He estimates by the summer's end, he'll have put 25,000 km on his bike.
Then I spilled booze on his cigarettes like a classy lady.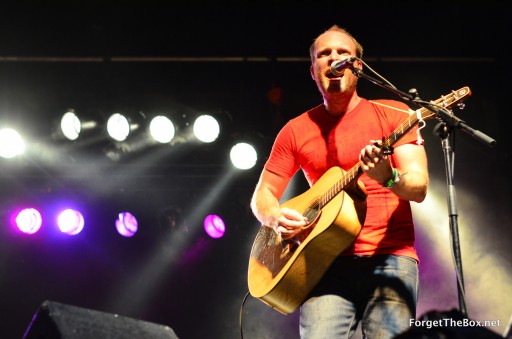 Time to jet! Zacchia and I part ways with Michael, and head off into the woods to Scene Des Arbres for The Rural Alberta Advantage. I won't gush too much about them now (expect a gushy article in a few days), but I will say this—my voice recorder tells me I liked them very much. The performance they delivered was fantastic; the crowd drank it up like $4 beer and resonated with the energy of the show.
Next up were The Barr Brothers, who were conveniently playing the same stage as The Rural Alberta Advantage. That meant I could continue sitting, stabilized, clutching my plastic cup and enjoying my woodland surroundings. Beautiful.
After this, the night's events propel into accelerated motion. I accost a hot dog vendor with wild enthusiasm to have found the (near) equivalent of street meat, and I momentarily lose Zacchia. I'm more interested in my hot dog, and wander contentedly for a few minutes. Walking into an opening a little off the main path, I hear splashing. I feel confused. Then I hear a familiar voice.
"Jess! Come swimming!"
Leave it to Zacchia to find a pool in the middle of Osheaga.
"Whaaaat??"
"Yeah! Get in here!"
Off with my shoes, into the water!
Apparently, upon further inquiry the next day, the portable pool was part of a game sponsored by Sprite. Apparently, due to "a certain situation on Friday," they had to up security the rest of the weekend.
Walking back to the main stage, leaving a trail of water in our wake, Zacchia and I arrive just in time to have missed most of Eminem. Oh well. Lose Yourself was playing, transporting me back to high school and nearly sobering me into a stoic state. Ugh, high school! I shake myself out of it.
"Time to get out of here!"
Right. Easier said than done. There were two ways off the island: By metro or by bridge. A few hundred people beat us to the metro, and an hour wait did not appeal. But walking across the bridge sounded seriously shitty as well.
Enter two random strangers and their set of wheels.
Somehow, (unsurprisingly), Zacchia had flagged down a car and convinced them to take us across. Amazing. I was dripping wet and an overall disaster to behold, but I was getting out of this rabbit hole in one piece.
Thank you kind strangers, whose names escape me; bless your crazy souls.
For all of our Day 1 Photos of Osheaga check out our Facebook Page.
Photos by Chris Zacchia