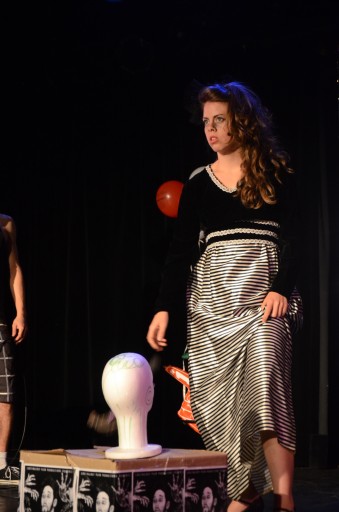 For my last day at the 2012 Fringe festival, I had the pleasure of heading back to the Cabaret du Mile End to catch a performance of TOUGH! a one woman play/musical by Kirsten Rasmussen. Rasmussen was one of the co-hosts at this years 13th hour and has become quite the buzz worthy lady around town. I first saw Rasmussen take part in a improv show with Uncalled For! and also caught some of her stand up at the Edge of the City live podcast this year. Since then, I've seen Rasmussen pop up in articles in The Gazette, Nightlife, and the (sadly now defunct, RIP) Montreal Mirror's Noisemakers list this year.  So needless to say when I saw she had her own solo show I was immediately interested.
Rasmussen is simply put, a force of nature. When she's in full out performance mode its impossible not to want to hear what she has to say. I get cranky when my festival schedule goes past my regular bedtime. This lady meanwhile was not only performing hosting duties at 1 am every night, but also doing multiple performances of a show that sometimes exhausting just to watch! Continually shifting back and forth between different characters, TOUGH is the story of two very different women: an alcoholic lounge singer with a famous father, and a tough lady boxer training for her first big match. With completely different lives, these women come together at the end of the show in a satisfying and unexpected way. (I won't spoil it for you in case Rasmussen puts on the show past the Fringe.)
In this show Rasmussen was required her to pull of comedy, drama and even sing a few songs all the same time. Like I've said I've seen her do improv and stand up comedy and after watching TOUGH I do think her greatest strength lies as a comedienne. I think she has the potential to be a just as strong dramatic actress but she's quite there yet, and honestly my only real criticism of the show is that she should stick to acting as oppose to singing. I know that singing is crucial to this show and with the clever lyrics and Rasmussen's engaging personality she manages to keep the show rolling, but when Rasmussen told the audience after the show that she'd be selling a CD from the show I quietly left. But I will be back for the next time she does stand up in a heartbeat.
* Photo by Chris Zacchia