Spending last weekend Fringing made me feel warm and tingly all over. Not the kind of feeling one might contract frequenting the seedier parts of the Plateau, but rather the puppy and unicorns gee shucks kind of warm and tingly. I shamefully admit that I've had those moments where I find myself falling out of love with this fair city of ours and I start to see myself in other parts of the world. But then those moments come along when you find yourself chilling at Fringe Park with a beer, good buds and amazing tunes, and you can't possibly imagine being anywhere else.
The love continued into Saturday, and in the most unexpected of ways.  On a Fringe friend date with fellow FTBer Jess Klein, we headed down to the Cabaret du Mile End to check out the show Zombie Apocalypse: A Love Story. Still on a zombie kick after getting hooked on The Walking Dead this spring I was definitely interested to see how the Fringe Festival would handle the walking undead.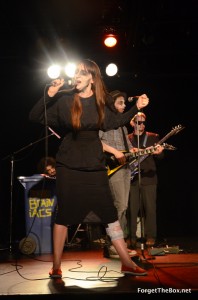 Despite hearing some mixed word of mouth reviews amongst my colleagues here at the website before heading down, Jess and I had a great time at this show. It was the little touches that I personally really appreciated. A zombie ripped our tickets at the door, and then as people took their seats for the show zombies casually made their way around the theatre. It wasn't creepy to see zombies wandering around the cabaret du mile end but rather set the light-hearted tone that was to continue throughout the show. As soon as I sat down at the venue a big smile crossed my face and didn't leave until I'd left.
The premise of the show was simple enough; four friends meet up on a  rooftop for beers and a few laughs, and instead find themselves in the middle of a full on zombie apocalypse. As some friends are presumed dead and others lose their mind, two bickering friends must finally admit their love for each other. Oh yeah and its a musical.
While the plot may sound like a bad romantic comedy I found the writing to be very clever and the line readings to be razor sharp from the show's actors. Unfortunately not everyone had the singing chops to really carry off all the musical numbers, but that didn't really bother me too much. What you did take away from the show was just how fun it was to fall in love during the apocalypse.
*Photos By Chris Zacchia