My 2012 fringe festival adventure began as many of my Montreal adventures do, running frantically down St-Laurent. The goal was to meet up with fellow FTB writer Robyn Dickson and hopefully get a good spot to watch the Fringe-for-All at Café Campus, where I was to get my first real taste of what this whole Fringe thing was all about. Robyn and I managed to meet but of course despite our best intentions we still ended up standing way in the back; clearly Fringe veterans knew exactly what time to show up and score a seat. While I found it pretty hard for artists to sell me their show in only two minutes the energy in the room that night even amongst a sea of red squares was an upbeat one, and only heightened my excitement to be covering the festival.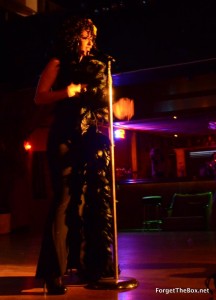 The first event that I attended was a Fringe edition of burlesque troupe Glam Gam's play If Looks can Kill, They Will! I had seen the play when they brought the show to Toronto last year so I knew what to expect, but I was curious to see what tweaks they'd brought to the show and also how the play would fair without Les Blow in the role of Sherlock Homo. He'd unfortunately suffered an injury only a few days before the play opened and was replaced by Cam M.
The early reviews for the show weren't great, but I was luckily to attend on a night when the troupe really hit their stride, and I'm pleased to say I loved it. Was Cam as good as Les? Maybe not, but she fit right in and you have to give it a hand to someone to commit to a show like that two days before it opens. You don't go to Glam Gam shows for the perfect plots or tits and ass (although of course who doesn't have fun seeing tits and ass!?) you go because you know its always fun. I have the up-most respect for people who can sing, dance, take their clothes off all while making you smile all at the same time.
After quickly stopping by the opening night of Fringe Park to catch the set of Irreverend James and the Critical Mass Choir (whose singer I had the chance to interview) on Thursday, I spent Saturday in full out Fringe mode; I began wandering over to Fringe Festival headquarters, Mainline theater, and decided to randomly check out that afternoon's performance of UBU. Sadly the show was a downright bore. The actors were a group of cegep kids who I chatted with briefly before showtime and were all cheerful and charming, I feel like in a different production they could have really wowed me. But sadly this production, which felt like a bad King Lear rip off, just didn't do the trick.
Thankfully I had something more then fabulous to look forward to; Drag Races! Hosted by legendary Montreal Drag Queen Mado the show pitted professional drag queens against Fringe artists in drag in a series of challenges like; make over an audience member, ride a tricycle, or carry a tray while walking in obligatory stilleto heels through a tire maze. One of the Fringe Drag Queens, in fact the clear winner in my opinion, was the Scottish Drag Queen. Perhaps learning my lesson from the Fringe for all I made sure that I arrived extra early to the event so that I could enjoy every sparkly, catty moment of it.
After enjoying the sun and watching men looking better in a dress then I ever will, I spent more money then I'm willing to admit at the St-Laurent street fair and ended up at the play Alice in Wonderland. In my drunken scribble from the Fringe-for-All I had underlined that this production seemed interesting. While in most cases your drunk self and sober self may not make the same decisions, thankfully in this case I'm glad I made a point of writing it down because I had a lovely time. Unlike UBU these were clearly seasoned actors, and the minimalistic set design was more then made up for by absolutely gorgeous costume design. Seriously even though it was a fantasy show I would absolutely wear some of those clothes in my day to day life. To date I would say its my favorite thing I've seen at the Fringe.
I'm not going to make any final decisions yet though because Fringe and I are not quite done yet! I still have another full weekend of Fringe activities ahead, so make sure you check back to find out what I thought about the final weekend of Fringe 2012.
Photos By: Phyllis Papoulias, Chris Zacchia & Matt Hovey