When you see sketch comedy at 2 p.m. you have to wonder how much laughter could possibly come out of you at midday. Specifically, if you're like me,  you're probably still recovering from the Fringe festival beer tent the night before. You're going to need a high dose of comedy, especially in the afternoon.
When you see great sketches that make you laugh, even in a muddled state, you realize that comedy—good comedy—has no temporal boundaries when it's professionally done. This was the case for my first comedy show at the Fringe festival, Get Off the Stage Presents: All Their Golden Hits.
With each passing routine, I got more and more excited about each upcoming sketch. Chuckling to myself during music interludes between numbers, I sounded like I was choking on buttered popcorn in a theatre. Regardless of my strange laughter, everyone in the audience was having a great time.
Brought to you by the House of Style, the comedy troupe made up of skillful humorists Kyle Allatt, Timothy Diamond and Ryan Hipgrave, the show opened with an overly tongue-in-cheek McDonald's owned by Michael McDonald of the Doobie Brothers. As customers order food from Michael McDonald at the counter, he sings back at them catchy responses like the song "no, we do not have Big Macs" sung in Doobie Brothers' style.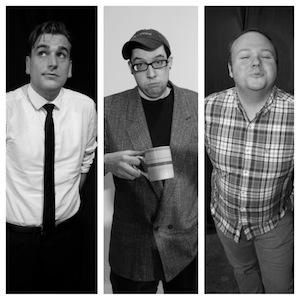 The next few sketches were chock-full of really terrible and incompetent doctors, failed Mars landing speeches that should have been epic and alien encounters that mocked our specie-centric view of the universe.
The definitive sketch of the afternoon was a man's problematic relationship with his lord and savior Jesus, who now insists that they hang out all the time together, sheesh.
While there was no single thread to any of the pieces, "the best of" really did prove that a great deal of comedy is knowing how to make your audience laugh, even at two in the afternoon. Like a slug slouched over with a Bloody hangover, this intrepid fringe reporter still managed to laugh his proverbial pants off and have a ludicrously fabulous time, even at 2  p.m.
Get Off The Stage will be performing again at OFF A – Montreal Improv (3713 Saint-Laurent #202) on Sunday, June 23 at 9:45 p.m. See the Montreal Fringe Festival's website for more info.