The Forget The Box Media Collective is a web-based and community-oriented organization in Montreal.
FTB Media currently operates the following sites:

ForgetTheBox.net: A news, arts and culture magazine linking several different blogs under the same banner. We update 2-3 times a day and feature original written and photo content from 25-30 contributors based primarily in Montreal with contribution from other communities around the world. (domain names Forgetthebox.org and Forgetthebox.ca also redirect here)
bullshitnotincluded.com: It's a matter of opinion, Cassie Doubleday's opinion. bullshit not included looks at issues in the media such as advertisements and gender roles, and also pointing out current pop culture and first world problems. It's about showcasing these topics for what they are instead of what we think they are. Currently updating 3-4 times a week.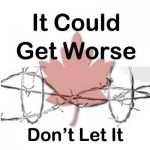 ItCouldGetWorse.com: An advocacy site designed to fight the proposed Bill C10 Omnibus Crime Bill in Canada through a series of videos inspired by Dan Savage's It Gets Better campaign, information awareness and by urging visitors to contact their Member of Parliament. This a collaboration between Forget The Box and The Duty Myth. Become an Omnibuster and help fight this bill. It Could Get Worse, Don't Let It!
ForgetTheBox.tv: A site featuring original video content produced by FTB Studios and other independent production companies. We also showcase popular and interesting videos from around the web.
The FTB Collective is an incorporated not-for-profit with our administration located in Montreal, Quebec, Canada. The current directors are Jason C. McLean, Chris Zacchia and Cassie Doubleday.
Our content is licensed under a Creative Commons Attribution Non Commercial License except where otherwise noted. Please read our terms of service and privacy policy.
If you feel your site could benefit from being part of our network, please send your proposal to affiliates@forgetthebox.net
To contact the editorial department, propose story ideas or to submit content to sites in our network, please contact the sites individually.