Gabriel Nadeau-Dubois officially confirmed he intends to run both as Québec Solidaire's candidate in the Gouin by-election and to become the party's spokesperson.
"Because I am a leftist, because I am a sovereignist and because it's time, really time, to put an end to the political impasse in Quebec, I am joining Quebec Solidaire," he announced during his long-awaited and entirely expected press conference on Thursday morning.
He used the opportunity to call for both a fusion with Option Nationale and for the ousting of Quebec's ruling political class as a whole.
The political class has betrayed Quebec
"I am joining a political party because I believe the political class that has ruled us, in Quebec, for 30 years must be removed from power" was the first thing out of his mouth. The new candidate did not mince his words regarding the Liberal Party of Quebec and the Parti Québécois.
"This political class has betrayed Quebec. It always puts its friends – the big corporations, the engineering firms, the doctors' lobby – before the people of Quebec," he accused. "Whether in power or not, whether red or blue, it always makes the same choices."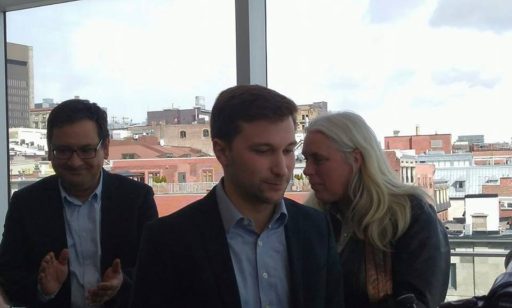 Although he stated that he believes Quebec Solidaire could collaborate with the PQ, he made it clear that a merger between the two parties was not on the table. He made subtle jabs at Jean-François Lisée's focus on identity politics and the party's position on the secularism debate.
Courting parties and militants
"Québec Solidaire can and must become a leading political force," claimed Nadeau-Dubois. He believes that Quebec Solidaire can rally the people who are interested in a sovereign, progressive Quebec, but not in identity politics.
According to him, the first step on that path is to negotiate a fusion with Option Nationale, which he called the "only party that shared our vision for a society that is progressive, independent and inclusive."
The new leader of ON, Sol Zanetti, welcomed this overture in a prudently worded press release immediately after. It said that ON was open to the possibility of negotiating and that it could represent an "important, exciting and mobilising step for Quebec." However, it also stated that any fusion of ON with another political party must be voted on by its members at a national congress.
Gabriel Nadeau-Dubois also wants to put more efforts into recruiting interesting candidates for QS. He admitted that he would love for some of his colleagues on the recent Quebec tour Faut qu'on se parle (We need to talk) to join the ranks.
Furthermore, he called on every QS supporter to get directly involved in the party.
"I am calling on everyone from my generation, in fact on everyone who still believes, to join, like me, the ranks of Québec Solidaire," he urged, "It is still possible to do big things. I believe in it, but we will have to do it together. Come work with us to change Quebec."
* Photos by Mirna Djukic