Ever since the 1930s proto-nerds have been meeting in dusty old dingy churches to assemble and trade things; they were collectors – hoarders if you will. Those were the infant days of nerddom, when comic-book nerds and sci-fi geeks lived in the shadows of their parents basements, trading, cataloguing and collecting.
But now they can step into the artificial light of a convention center! As the annual Montreal Comiccon begins this weekend!
The Montreal Comiccon is coming to town in full gear as the alter-ego and science fiction fair hits Place Bonavanture on the 17h and 18th. And, holy Ford Galaxie, Batman!   The Batmobile will be there.
Besides comic book writers and illustrators, there will be stars of the big and small screen from science fiction, fantasy and horror genres including (among others)
The man that made Batman Dance: that's right, Adam West will be there – pure West (please tap chest).
Also present will be Michael Dorn, known from his role as Tactical Officer Worf on Star Trek: The Next Generation. Does he have a new book out called "I am not Worf"? We shall find out.
Also from Star Trek: The Next Generation, Marina Sirtis will be appearing. Yes, that sexy counselor from the Enterprise will be making a her presence felt.
The man who played the most evil villain in the galaxy, Darth Vader, Dave Prowse will be there.
For those of you who are fans of Buffy the Vampire Slayer series, James Wesley Marsters, Mercedes McNab are coming.
From the horror genres category, Sid Haig, who played Captain Spaulding in House of a 1,000 corpses will be there to sign autographs and talk about his many roles during his long career in cinema.
And the guest of honor, Stan Lee, will be hosting an evening with cocktails. Amateur artists and fans alike are welcome to join him for a a drink and discuss the magic of Marvel comics.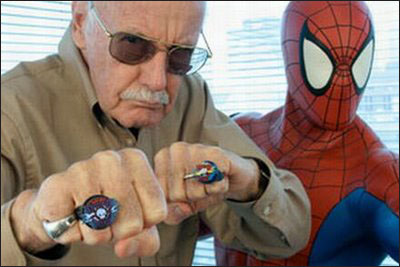 There will also be an autograph session with Stan Lee: You can increase the value of your comic books as well as meet Stan 'fuckin' Lee!
ForgetTheBox ranter and raver Laurence Tenenbaum and music reviewer Jerry Gabriel will also be on the scene signing autographs and giving you an in-detail account of all the strange and wild anomalies at Place Bonaventure this weekend. Embedded in a horde of zombie comic  nerds, they might even find out the true meaning of Comiccon!
Photos courtesy of the Montreal Comiccon