Odonis Odonis @ M for Montreal Boat Cruise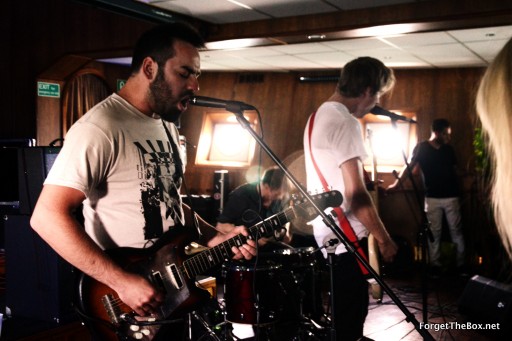 Boys who look like they need a babysitter should not be playing music this good. Seriously. Odonis Odonis played in the early afternoon on the M for Montreal boat cruise during NXNE. (Which, by the way, has been one of their best boat cruises yet; the people on it were awesome this year.) If you closed your eyes during the Odonis Odonis set you'd think they had been playing for over ten years in dark venues in the underground bars of Williamsburg. But they haven't. Who knows if they've even ever been there. Again, this is all said with love.
Anyway, let's jump back to the part when your eyes are closed. When you open your eyes, your mouth drops. These Montreal boys are so young (I am saying this with love boys, I think you're great) with such good vibes…you can't stop but stare. I was in awe of their sound. And my gut says their sound is part of a scene that's currently missing and evolving. It's not moustache indie dance, it's not sit-down-at-your-table folk, it's not bleed down your face hardcore punk. It's a dark, sweeping, surf rock. And the turnout, plus mosh pit, for their set on the boat cruise filled the room with a sober energy (not saying we were sober) that echoed off the walls and spilled down your bones.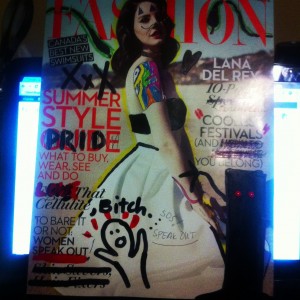 Check out these kids next time they hit up your town and try the eye trick. I promise it won't disappoint.
P.S. I made this while trying to write this review while listening to Odonis Odonis. They are the inspiration.
Joey Bada$$ @ Wrongbar
First thing's first, let's clear the air here: I am not a huge fan of hip hop. I never really have been, and I wasn't thinking I'd change my mind anytime soon. Then I saw Joey Bada$$ at Wrongbar on Saturday night. You know one of those nights when everything has just gone to shit, and you just need to get to a good place…yeah, Joey Bada$$ and the crowd did that for me.
We walked into a packed-to-the-walls Wrongbar to this crew on stage. I had no idea what I was walking into. (Side note: these are the times when you truly love NXNE or other festivals – the surprises). Being the little chipmunk I am, I make my way to the top left side where you could see everything. This guy was nuts. The crowd was losing it. At some point I looked around and everyone had their hands in the air. It was so hot and sweaty you finished the show 10 pounds lighter. His beats made your skin melt.
During his final set, when he was saying his goodbyes, the crowd started heading outside for air…when all of a sudden someone screamed, "Joey Bada$$!!" and everyone swarmed like a bunch of drunk bees around him. You got lost. I got trampled. We made it out alive.
Not sure what his touring deal is, but baby, you've got to feel the way that felt.
Cool, well, that's all I got this year. Big thanks to NXNE and all the bands. You always rock my world.
Follow me on Twitter or Instagram (doublecass) for new/old/lovable music and stuff.
Top photo courtesy M for Montreal.